There was a time when the UCLA Bruins football program was the toast of the town in regards to the Pac-12 Conference. From 1982-1985, UCLA won three Rose Bowl Championships which was also in the middle of a string where they won seven consecutive bowl games overall. This was all accomplished on the watch of Terry Donahue as UCLA's head football coach who's 151 wins at the school are more than any other head coach in the history of the program. Since Donahue retired in 1995, UCLA has won two Pac-12 Titles, while they are now on their ninth different head football coach.
Following the conclusion of the 2017 college football season, UCLA athletic director Dan Guerrero gave former Oregon Ducks head football coach Chip Kelly a five-year deal for $23 million to be the school's new head football coach in the hopes of turning the program around, but so far that has not been the case.
In 15 games under Kelly, UCLA's record in 3-12. And after 2018 marked the Bruins worst season since 1943 when they were still in the Pacific Coast Conference, things have not gotten better here in 2019.
In three games this year, UCLA is winless which includes a pair of losses to teams from non-Power Five Conferences in the Cincinnati Bearcats (American Athletic Conference), and San Diego State Aztecs (Mountain West Conference). This also marks the second consecutive year that UCLA lost to a team from the Mountain West as last year the Fresno State Bulldogs walked into the Rose Bowl and calmly defeated the Bruins by 24 points. So far this year we've also seen UCLA lose that back half of home-and-home series with Cincinnati as well as the Oklahoma Sooners of the Big 12 Conference. This past Saturday night Oklahoma stormed into the Rose Bowl and thoroughly defeated the Bruins 48-14. And in two contests with the Sooners, UCLA was outscored by a combined 66 points.
In two home games this year at the Rose Bowl, UCLA has not even come close to selling out the stadium that seats well over 90,000 people, and their only saving grace to having a sizable crowd this past Saturday night was the large contingent who made the trip west with Oklahoma.
Kelly was supposed to be the guy who changed that as his name alone brought excitement which made the folks in Los Angeles hopeful that he could bring some of the magic that saw him go 46-7 in four years at Oregon.
UCLA was hopeful that Kelly's hire would see a boost for them in recruiting as his spread offense would produce points in bunches. But all we've seen so far from Kelly at UCLA is a man who's team has been unable to keep up in the weakest of all the Power Five Conferences.
At this point Kelly's only saving grace is that he was able to defeat UCLA's crosstown rivals in the USC Trojans last year which prevented them from going to a bowl game, and put their head football coach Clay Helton on the hot seat at Heritage Hall. And as USC is dealing with their own issues, nobody around the UCLA program would have envisioned that the Bruins would be 3-12 in 15 games under Kelly.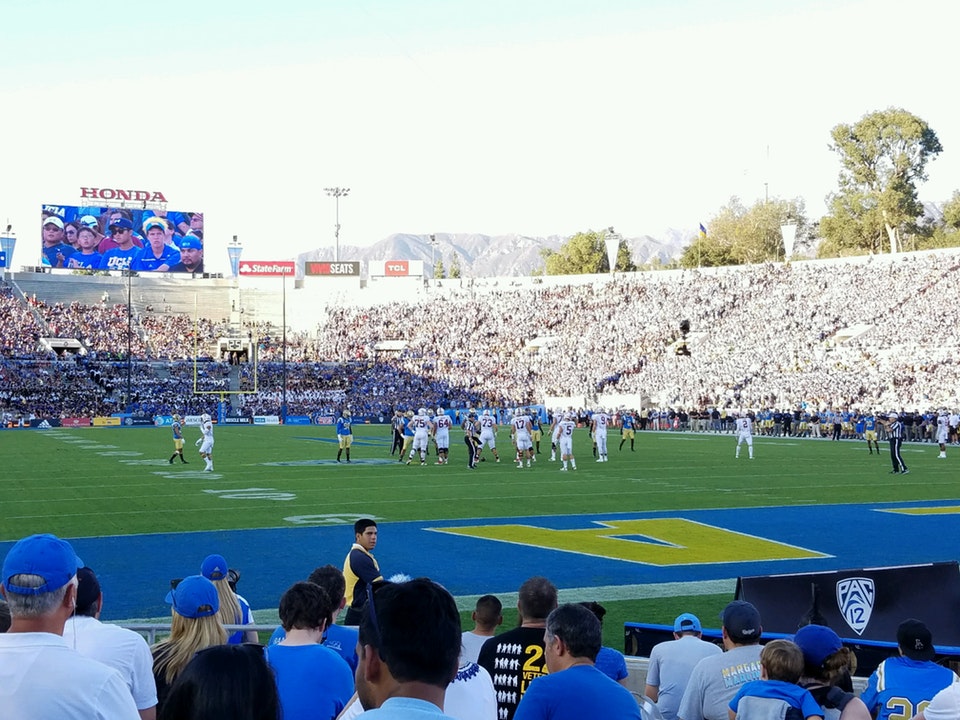 Since coming to UCLA, Kelly has failed to get the big-time recruits as he was expected to clean up in Southern California in that regard as the Bruins simply don't have the impact players on either side of the ball that they will need to keep up in the Pac-12.
Yes, Kelly is a big name on the college football scene, but if he doesn't shape up soon, who is to say that the powers that be at UCLA won't pull the rug from under him, and show him the door?
We know that UCLA still owes Kelly more than $10 million over the next three years, but the Bruins must now go 6-3 over their final nine contests in order to become bowl eligible this season. And UCLA's final nine games includes road games versus the Washington State Cougars and Utah Utes who are both in the running to win the Pac-12.
Kelly's failures could mark the end of the line for Guerrero as UCLA's athletic director as some his recent hires which includes the school's former head basketball coach Steve Alford have not worked out. And as so much has been invested in Kelly to see UCLA only win three conference games, and run onto the field for a half-empty Rose Bowl, something has to give sooner rather than later for this program.