Y-Pittsburgh Steelers 12-4
After losing to the New England Patriots in the 2016 AFC Championship Game, the Pittsburgh Steelers headed into the 2017 National Football League season looking to build off of that. The Steelers were one of the top teams in the NFL as they were led by an explosive offense. But a controversial Week 15 home loss to the Patriots would see Pittsburgh miss out on securing home-field advantage in the AFC Playoffs. And as the Steelers headed into the postseason with their sights set on facing the Pats once again, they forgot to take care of their business in the divisional round versus the Jacksonville Jaguars. Now Pittsburgh heads into a new campaign looking to not only make it five consecutive trips to the playoffs, but also getting their ultimate goal which is another Super Bowl Title. However do the Steelers have what it takes to get that done?
Ben Roethlisberger is set to begin his 15th year as the Steelers starting quarterback and the 36-year old can still get it done at a high level. Roethlisberger is a "gunslinger" in the truest since of the term as he takes risks in the pocket, but he also finds a way to make plays by getting the football to his talented wide receivers. However Roethlisberger will enter the new season needing to get adjusted to a new play caller as after the Steelers chose not to renew the contract of offensive coordinator Todd Haley, Randy Fichtner who has been with the franchise since 2007 will now be calling the shots at that position.
Last year the Steelers had the third best passing offense in the National Football League, and the aerial assault will once again be on display in Western Pennsylvania. In a very short period of time, Antonio Brown has morphed into one of the top wide receivers in the NFL. In three of the last four years, Brown has led the league in receiving yards. At 5'10", 181 lbs., Brown might be slight in stature, but he makes up for it with his elusiveness as well as his ability to rack up yardage after the reception. And now Brown is on the verge of being just the second player in Steelers franchise history to record 10,000 career receiving yards.
But if Steelers opponents believe that stopping Brown will neutralize the team's offense in 2018, they need to think again as Pittsburgh has another solid pass catcher in JuJu Smith-Schuster. Smith-Schuster was a second-round pick of the Steelers in 2017 and he didn't disappoint as he hauled in 58 receptions for 917 yards and 7 touchdowns which included a 97-yard score. Smith-Schuster's emergence led to diminished playing time for wide receiver Martavis Bryant as he was ultimately traded this off-season to the Oakland Raiders. At 6'1″, Smith-Schuster has a good frame for a wide receiver, but he is also deceptively fast, while giving Roethlisberger another dependable pass catcher on third down.
However as good as Brown and Smith-Schuster are in regards to catching the football, the engine for Pittsburgh's offense is running back Le'Veon Bell. Bell is in that rare air being that he is an all-around running back due to his ability to run, catch, and block. Bell's runs may start off slow being that he is a patient running back, but he knows how to set up the blocking in front of him, and when he sees a seam, he is off to the races. But as important as Bell is to the Steelers, he is not a happy camper due to the fact that he is seeking a contract extension which has not come.
And as good as the Steelers skill players are, the glue of this team has been their offensive line. Pittsburgh's O-line is one of the best in the business as they have three Pro Bowlers in center Maurkice Pouncey, left tackle Alejandro Villanueva, and guard David DeCastro. Pittsburgh's quality offensive line has helped to protect Roethlisberger as his sack numbers have dropped in recent years as keeping Big Ben upright is always vital to this offense.
Defensively Pittsburgh finished 2017 fifth in the National Football League in total defense, but the unit's ability to stop opposing offenses changed drastically when they lost inside linebacker Ryan Shazier. Last December, Shazier suffered a back injury that also resulted in spinal damage. Shazier is in the process of recovering, but the chances of him playing this year are at zero. Shazier was the leader of this Steelers defense as he was the one who was responsible for making all of the reads, and without him, they are a rudderless ship.
In Shazier's absence, more will be expected from inside linebacker Vince Williams who has been with the Steelers since 2013. And if Williams is able to somewhat hold it down for the Steelers on the inside, the team has a pair of emerging pass rushers at outside linebacker in Bud Dupree and T.J. Watt.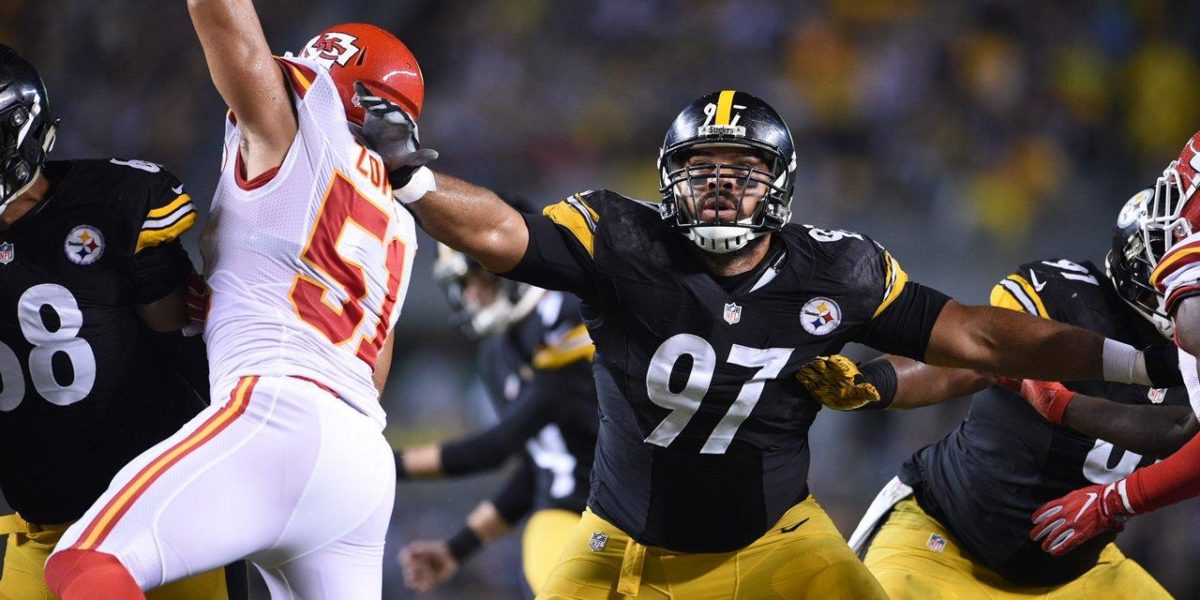 After an injury filled 2016, defensive end Cam Heyward bounced back to have a Pro Bowl season in 2017. In the Steelers 3-4 defense, much is asked of their defensive linemen which includes shedding double teams, playing the run, and getting to the quarterback. Heyward can do all of that at a high level which helps the Steelers win on first down in order to keep opposing offenses behind the chains.
The Steelers were fifth in the National Football League versus the pass last season, and they will rely on a blend of veterans and youth to get it done. Veteran cornerback Joe Haden is still solid in coverage, but he has not appeared in all 16 games since his rookie season in 2010. Haden is returning from a fractured fibula that he suffered late last year, and his presence will be needed as Pittsburgh looks to contain the passing game of their opponents. This off-season has seen Pittsburgh sign former Green Bay Packers strong safety Morgan Burnett to solidify their secondary, while third-year cornerback Artie Burns, and rookie strong safety Terrell Edmunds could be set to make big impacts this year.
Kicker Chris Boswell continues to be one of the best at what he does in the National Football League. Last year Boswell was able to make 92% of his field goals which included going 4-for-4 from beyond 50 yards. And Boswell's strong leg will come into play for the Steelers; especially late in the season for their playoff push.
There is no secret about the Steelers being the team to beat in the AFC North, but their season will come down to their Week 15 contest at home versus the New England Patriots as this game will more than likely determine who will get home-field advantage in the AFC.
Baltimore Ravens 8-8
Since 2000, the Baltimore Ravens have been one of the more consistent franchises in the National Football League. Since that time only the New England Patriots have won more Super Bowl Championships than the Ravens as they've become one of the model organizations in the league. However recent years have seen the Ravens get away from those winning ways as Baltimore has missed the postseason in each of the last three years. Last year was the toughest of them all for the Ravens as heading into their Week 17 meeting at home with the Cincinnati Bengals, Baltimore only needed to win to secure the last playoff spot in the AFC. But the Ravens would fall short as their defense allowed the Bengals to march down the field on a 90-yard drive to score the game-winning touchdown with under a minute remaining in the contest. The home crowd at M&T Bank Stadium was stunned as were the Ravens which was a very difficult way for them to head into the off-season.
The Ravens have attempted to learn from that setback this off-season as they are a team in transition. Longtime Ravens general manager Ozzie Newsome is set to retire at the end of this season as he has been the only GM that the franchise has ever known. And after last season's collapse, longtime Ravens head coach John Harbaugh was on shaky ground with team owner Steve Bischotti who contemplated making a change. However Bischotti has decided to stick with Harbaugh, but don't for one second think that if the Ravens fail to make the playoffs again that he will not receive his walking papers.
Since the Ravens Super Bowl victory at the conclusion of the 2012 season, their offense has struggled which included them ranking 27th in the National Football League in total offense last year. And those struggles begin with the play of quarterback Joe Flacco.
Flacco has been the Ravens starting quarterback since 2008. And although that Flacco has a career record of 92-62 while includes him being a Super Bowl MVP he has struggled in recent years. It started when he Ravens made Flacco the highest-paid quarterback in National Football League history in 2013 when he received a six-year deal for $120.6 million. That huge contract has led to the Ravens not being able to keep quality players around Flacco, along with the fact that key defensive players such as Ray Lewis and Ed Reed retired as the quarterbacks flaws have been exposed more.
And all signs point to the Ravens being ready to move on from Flacco as they used as a first-round pick this year on quarterback Lamar Jackson. Jackson is an electrifying athlete who won the Heisman Trophy in 2016 at Louisville. Because of Jackson's athletic ability, he doesn't get enough credit in regards to being a good quarterback as he is seasoned to be a solid starting quarterback in the National Football League. Jackson is going to push Flacco for playing time, but don't think that the veteran will take it lying down.
We've seen Flacco play his best football when his back is against the wall which was the case during the Ravens Super Bowl run. And although that Flacco's days in Baltimore appear to be numbered, he could use this year to showcase himself to another team.
Overall the Ravens offense has lacked an identity in recent years which could continue under offensive coordinator Marty Mornhinweg, while they have so many questions at the skill positions. Wide receiver Breshad Perriman was supposed to be an impact player for the Ravens which led to him being drafted in the first round in 2015. However Perriman has been nothing short of a flop in Baltimore as he has only started four games, while only tallying 576 career receiving yards which ultimately led to him being cut. This off-season saw the Ravens sign veteran wide receiver Michael Crabtree who has had an up and down career, while another free agency signing in wide receiver Willie Snead IV benefited from playing the New Orleans Saints and quarterback Drew Brees for the past four years.
The Ravens have not had a running back gain at least 1,000 yards on the ground since 2014, and with questions on their offensive line, this unit could once again be stagnant.
The Ravens defense has been the backbone of this franchise since its inception in 1996, and that trend will need to continue if Baltimore wants to be a playoff team in 2018. The Ravens have arguably the best set of linebackers in the National Football League due to their smarts, versatility, leadership, and overall ability. Outside linebacker Terrell Suggs is an ageless wonder as he found a way rack up 11 sacks last season at the age of 35. Along with Suggs, inside linebacker C.J. Mosley can get it done at a high level which is evident by him leading the Ravens in tackles last year with 132.
Baltimore's defense will miss cornerback Jimmy Smith who is suspended for the first four games of the upcoming season after he violated the league's personal conduct policy as his absence will put a strain on the team's secondary. But the Ravens do have some experience with free safety Eric Weddle who in his two years with Baltimore has yet to miss a game, while he will be in line to make the Pro Bowl for the sixth time in his career.
Prior to becoming the head coach of the Ravens, Harbaugh made his mark in the National Football League as a special team coach, and thus under him, Baltimore is one of the strongest teams in the league in that aspect of the game. Kicker Justin Tucker is one of the most accurate kickers in the NFL as he made nearly 92% of his field goals last year, while Sam Koch's booming leg of punts can consistently tilt the field for the Ravens defense.
Four of the Ravens first six games this year will be on the road which includes three games versus all of their AFC North Rivals. And although that it will be early, it will be make or break time for the Ravens.
Cincinnati Bengals 7-9
The enigma that is the Cincinnati Bengals franchise continues to be a head scratcher. The Bengals last playoff victory came on January 6, 1991 versus a team that no longer exists in the Houston Oilers in a stadium that is no longer around in Riverfront Stadium. And since 2005, the Bengals have made seven trips to the playoffs which includes four AFC North Titles, but they have been unable to reverse the tide. Marvin Lewis has been the Bengals head coach since 2003, and he has compiled a record of 125-112-3. To some observers it is extremely shocking to see that Lewis is still employed by the Bengals, but once you investigate further and see that organization's lack of commitment to winning which begins with team owner Mike Brown, you get a better understanding. Brown doesn't care about winning as his Bengals are a cash cow for him. Cincinnati has posted a losing record in each of the last two years, and last season it was darn near impossible to get a read on this team.
The Bengals were up and down all season as they began the year by losing their first three games. Cincy would climb back into contention only to endure a three-game losing streak in December which ended their playoff aspirations. But the Bengals would bounce back to win their final two games of the season which included eliminating the Baltimore Ravens from playoff contention in Week 17. The victory over the Ravens showed character which is something that has not always been in place for the Bengals under Lewis, and now the question heading into the new season in the National Football League is whether or not that they will be able to carry it over into the new campaign.
Quarterback Andy Dalton has become the whipping boy for anything that has gone wrong in recent years for the Bengals. Dalton has been the Bengals starting quarterback since 2011, and in that time he has compiled a record of 63-44-2. Dalton has thrown 167 touchdowns to 93 interceptions, and he has been one of the more accomplished quarterbacks in franchise history. However what has hurt Dalton is that he is lacking the "it" factor. The numbers are there, but Dalton has been unable to get that career defining moment when the chips were pushed to the middle of the table. Dalton will have another solid season, but until he finds a way to take his game to another as well as that of the Bengals, he will continue to be identified as just another quarterback.
Aside from Dalton being able to put together another solid season, the Bengals must improve their rushing attack. Last year only the Detroit Lions were worse at rushing the football in the National Football League than the Bengals were. Cincinnati's leading rusher was rookie Joe Mixon with only 626 yards, while no Bengals ball carrier had at least 200 touches. In previous years when the Bengals were able to be a playoff team under Lewis, there was a commitment to the running game, and more importantly they were effective. Mixon will once again be one of the top running backs for the Bengals, but he and running back Giovanni Bernard must establish themselves early in the season as forces coming out of the backfield if Cincy is going to contend for a playoff spot.
Another key for the Bengals offense will be their passing game. Veteran wide receiver A.J. Green continues to be unassuming, but his production on the field has not waned. In six of Green's seven years with the Bengals, he has tallied at least 1,000 yards receiving. Green is now 30-years age, but he still has plenty left in the tank, and 10 touchdown receptions this season will see him surpass Chad Johnson as the Bengals all-time leader in the category. Wide receiver Tyler Boyd was a second-round pick of the Bengals in 2016, and although that he has shown flashes of his potential, he has yet to put it altogether. And with Green getting older, there is no time like the present for Boyd to emerge in order to become more consistent in Cincy's passing attack. When healthy Tyler Eifert has the potential to be one of the best tight ends in the National Football League, but he cannot do that while wearing sweats. In Eifert's five years with the Bengals, he has only appeared in 39 games which included him only appearing in two last season. At 6'6″, 255 lbs., Eifert is a tight end by trade, but what he really is for Cincinnati's offense is a very big wide receiver. Eifert's presence will keep safeties honest if they want to double cover Green, but as previously mentioned, he must stay healthy.
However it will be difficult for the Bengals to improve this year due to the fact that there are holes on their offensive line. Last year Bengals quarterbacks were sacked 40 times, and if they are unable to get their running game going, this offense could have a hard time.
Defensively the Bengals were 18th in the National Football League in total defense last season, and although that this is a veteran group, they could still be a force. Veteran defensive end Carlos Dunlap and Michael Johnson, along with defensive tackle Geno Atkins have been together for some time now, and their ability to put stress on opposing defensive lines will be important for this defense. Under Lewis, the Bengals continue to have strong play at the linebacker position, and one player to keep an eye will be outside linebacker Malik Jefferson. Jefferson was the Bengals third-round pick this year after he was the Big 12 Conference's Defensive Player of the Year with the Texas Longhorns. Jefferson has good instincts which will see him get plenty of playing time this year, and sooner rather than later, we could be looking at the leader of this unit.
The Bengals were eighth in the National Football League in pass defense last season as their secondary is littered with athletes. Cornerbacks Dre Kirkpatrick and William Jackson III each had 14 passes defended, while strong safety Shawn Williams is an enforcer. Williams acts as an extra linebacker on the field at times due to his ability to play the run, while he can also deliver the wood to receivers going over the middle.
For Bengals kicker Randy Bullock, he has been up and down throughout his career as when he is on top of his game, he is automatic, but there is a downside to that. In a season-plus with Cincinnati, Bullock has made 88.5% of his field goals as opposed to his 82.8%  for his career. The Bengals are Bullock's fifth different team in the National Football League and for him to stay with them, he must be able to develop consistency and build off of last season.
Punter Kevin Huber hopes to not be as busy this year as compared to 2017. Last year Huber attempted 88 punts which was tied for the fifth most in the National Football League. Huber's high number in punts was due to Cincinnati's struggles on third down as they completed less than 34% of their attempts which was 29th in the NFL. However Huber had a net average of 40.8 yards which is always good when teams are looking to flip the field and gain field position.
The Bengals have not been blessed with an easy schedule as three of their first four games are on the road, while three of their final four contests are away from home as well as their regular season finale coming against the Pittsburgh Steelers.
Cleveland Browns 6-10
If you've watched the Cleveland Browns play over the past few years, you know that the Surgeon General should put a warning up before the start of each of those contests. In the past three years, the Browns have only won four games as 2018 saw them become only the second team in National Football League history to go 0-16. The Browns have been a walking disaster due to their constant overhaul within their front office which has had a trickle down effect to the field. It's been a revolving door for the Browns at the head coach and at the quarterbacking position; however the foundation under those positions appears to finally by solidifying.
In two years as the Browns head coach, Hue Jackson has only been able win one game which from an outsider's perspective would be grounds for Cleveland to move on from him. But when John Dorsey was named as the Browns general manager this past December, he put his full support behind Jackson due to the fact they he felt that the head coach had not been given the talent to work with in order to succeed in the National Football League. And together Dorsey and Jackson have been working together to remedy that.
The Browns entered the 2018 National Football League Draft owning two of the first four picks. And after much speculation the Browns stuck to their guns and used those selections as opposed to trading them.
The Browns used the first overall pick on quarterback Baker Mayfield and they believe that he is the future for their franchise. Mayfield joins the Browns after a highly decorated collegiate career which included him winning the Heisman Trophy in 2017. Mayfield is listed at 6'1″, but teams around the National Football League have not been focusing as much in recent years if a quarterback is slight in stature due to the recent success of Drew Brees with the New Orleans Saints, and Russell Wilson with the Seattle Seahawks. Mayfield has plenty of spunk and moxie which is needed for a Browns organization that has lacked a spark for some time. Conventional wisdom would say that the Browns should start Mayfield right away, but they have a solid plan in place.
This off-season the Browns acquired quarterback Tyrod Taylor from the Buffalo Bills. In nearly three full seasons as the Bills starting quarterback, Taylor's record was 22-20, but he will go down in the team's history books as he helped them reach the playoffs this past January for the first time since 1999. Like Mayfield, Taylor is a smaller quarterback at 6'1″, but he is in Cleveland to compete. Taylor knows the he is only going to keep the seat warm for Mayfield, but a solid season on his part could see him land a job with another team next season.
When you failed to win a game like the Browns did last season, you're obviously in need of an infusion of talent as Dorsey has been working this off-season to improve Cleveland's roster. Aside from acquiring Taylor, the Browns also traded for wide receiver Jarvis Landry from the Miami Dolphins. Landry will give the Browns some explosiveness in the passing game as he is a three-time Pro Bowler, while he also led the National Football League in receptions this past season with 112.
But Landry's arrival isn't the only reason for optimism with the Browns offense as they could be ready to finally welcome wide receiver Josh Gordon back. Since 2014, Gordon has only played in 10 games for the Browns due to the fact that he has been suspended by the National Football League for substance abuse. However all signs point to Gordon being a full participant for the Browns this year which will provide a huge spark for their offense. At 6'3″, 225 lbs., Gordon is an athletic freak of nature due to his speed, strength, and leaping ability. This was evident when Gordon led the NFL in receiving yards in 2013 with 1,646. And after being out of football for so long, Gordon should be hungry to prove that he can still do it at a high level.
The Browns also signed running back Carlos Hyde who after spending the first four years of his National Football League career with the San Francisco 49ers, is returning to his home state. Hyde is from Cincinnati, while he played collegiately at Ohio State, and now he is ready to share carries in the backfield for Cleveland with running back Nick Chubb.
The Browns made Chubb the third pick of the second round in this year's draft and he is a spark plug due to the energy that he runs with. While at Georgia, there weren't too many players better than him in the Southeastern Conference and when he got the corner it was generally pay dirt. I can see Jackson coming up with packages to get both Chubb and Hyde in the game at the same time. And regardless of whether it is Mayfield or Taylor under center, this Browns offense will be fun to watch.
But a big reason why the Browns should hesitate on making Mayfield the starter is due to the fact that their offensive line is a work in progress. Longtime left tackle Joe Thomas decided to retire this off-season, and without him, the best way to sum up this unit is that the jury is still out on them.
There is no doubt that there is talent on the Browns defense, but is it ready to come together under defensive coordinator Gregg Williams? Throughout Williams' time as a defensive coordinator with several National Football League franchises, he has preached staunch defense which means getting after the quarterback. The Browns have the potential for that with defensive ends Myles Garrett, Carl Nassib, and Emanuel Ogbah. All three players have been early round picks by the Browns in recent years, and it is time for them to live up to their potential.
Last year as a rookie, safety Jabril Peppers began to flash the potential which made him a first-round pick. Peppers is a good athlete that can defend both the run and pass, and he has the opportunity to be the finest defensive back that the Browns organization has had in a very long time.
The Browns will enter the upcoming season as most people's "flavor of the month". The Browns do have talent and they should show signs of improvement, but they still have work ahead of them in order to become a playoff team.
Y-Division Winner