Atlantic
X-Clemson Tigers 13-0 (9-0)
The Clemson Tigers are in the midst of their best run in program history, and there are no signs of the success train slowing down anytime soon. Clemson has won at least 10 games in each of the last ten seasons, while they've qualified for the College Football Playoff in each of the last three which includes winning the national championship at the conclusion of the 2016 college football season. Dabo Swinney is the head football coach who has brought all of this success to Clemson as his "family first" message has made the Tigers the envy of the rest of the Atlantic Coast Conference. And as another college football campaign is set to begin, will anyone in the ACC be able to slow down the Clemson express?
Heading into 2017, the biggest question for Clemson was how would they manage after losing quarterback Deshaun Watson to the National Football League. And that question would be answered by quarterback Kelly Bryant. Bryant showed that he is a Watson clone as his physical ability and leadership have once again made the Tigers the team to beat in the Atlantic Coast Conference. And as Bryant is set to begin his senior campaign, we could be looking at the ACC's Offensive Player of the Year.
Under defensive coordinator Brent Venables, Clemson has developed one of the stingiest defenses in the nation. The Tigers were ranked fourth in the nation last year in total defense as ten opponents failed to score 20 points or more against them. And luckily for the Tigers, they have plenty of play makers who are returning from last year's team as they should once again have the top defense in the ACC.
Senior outside linebacker Kendall Joseph might be the most athletic player on this defense as he can play the run and pass, while he also tackles anything that moves. It's not exactly the "Orange Crush" defense of the Denver Broncos from the late 1970's and early 1980's, but this Clemson defensive line is ferocious. The Tigers were able to record 46 sacks last season with four of their top five pass rushers returning for 2018. Senior defensive end Austin Bryant and junior defensive end Clelin Ferrell are solid bookend edge rushers as they combined for 18 sacks last year, and I feel sorry for any quarterback that'll face this unit in 2018 as they are poised to deliver nothing but punishment.
Road games versus the Georgia Tech Yellow Jackets and Florida State Seminoles will test the mettle of Clemson within the Atlantic Coast Conference, while they'll get tested when they travel to face the Texas A&M Aggies of the Southeastern Conference. However this team has what it takes to not only take home another conference crown, but the national title as well.
Z-North Carolina State Wolfpack 10-2 (6-2)
Don't look now, but the North Carolina State Wolfpack are on the verge of doing some big things in the Atlantic Coast Conference. The Wolfpack are coming off of their first 9-win season since 2010, and they were within an eyelash of defeating the Clemson Tigers which would have sent them to the ACC Championship Game for the first time in school history. Since 2013, Dave Doeren has been building his foundation as the head football coach at N.C. State, and 2018 could be the year where the Wolfpack win the ACC for the first time since 1979.
Very quietly quarterback Ryan Finley has gone about his business and become the best signal caller to play for N.C. State since Philip Rivers. Finley has a big arm, but more importantly he is accurate, while he also knows how to protect the football. Finley only threw 6 interceptions last year with all five of those coming in the Wolfpack's final five games as they went 2-3 over that stretch. However Finely rebounded to have a strong performance versus the Arizona State Sun Devils in the Sun Bowl which should propel him to having a strong senior campaign which includes possibly being the Atlantic Coast Conference's Offensive Player of the Year.
Running back Reggie Gallaspy II saw limited action last year behind Nyheim Hines, but now in his senior year it'll be his time to shine. At 5'11, 225 lbs., Gallaspy is a load, and as he runs behind an offensive line that features three senior starters which includes left tackle Tyler Jones, the ground around of North Carolina State will be a force to be reckoned with.
Junior wide receiver Kelvin Harmon is N.C. State's big time threat in the passing game. At 6'3″, 213 lbs., Harmon is a matchup nightmare for cornerbacks in the Atlantic Coast Conference, and I expect him to use his big frame to fight off smaller defenders; especially in the red zone.
Defensively the Wolfpack lost plenty of talent from last year's team, but one player to keep an eye on here in 2018 will be senior outside linebacker Germaine Pratt. Last season Pratt was N.C. State's fourth leading tackler with 69, and he will need to take on a bigger role this year in order for the Wolfpack to once again be a force in the Atlantic Coast Conference.
The Wolfpack will again be one of the best teams in the Atlantic Coast Conference, but their season will come down to their October 20th showdown with Clemson in order for them to reach the conference title game for the first time in school history.
Z-Florida State Seminoles 8-4 (5-3)
2017 was one of the toughest years that the Florida State Seminoles had to endure as it included them losing their head football coach and posting a losing record in the Atlantic Coast Conference for the first time in 2006. After returning Florida State to prominence which included winning a national championship in 2013, Jimbo Fisher decided to take his act elsewhere as he is now the head football coach of the Texas A&M Aggies. Fisher's departure was a shocker since Florida State is a national recognized program; however money and power talk which is why he is now in College Station.
Florida State would find a new man to lead their program as it is Willie Taggart who'll get his crack at running the show in Tallahassee. Taggart has quickly developed a reputation in the coaching ranks as previous stops with the Western Kentucky Hilltoppers and South Florida Bulls saw him make each of those programs a contender. Taggart is also a native of Bradenton,Florida, and unlike Fisher, I don't see him bolting Tallahassee as he is inheriting a good ball club.
In 2016, quarterback Deondre Francois was the Atlantic Coast Conference's Offensive Rookie of the Year as he was a one-man wrecking crew. Francois' ability at quarterback is what propelled the 'Noles into national title contention at the start of the 2017 campaign, but things would change for them rather quickly. In Florida State's season opener versus the Alabama Crimson Tide, Francois suffered a patella injury which put him on the shelf for the remainder of the year. What the Seminoles lost in not having Francois was one of the best play makers in the ACC which is a big reason why they limped to a 7-6 record. Francois is back and raring to go for his junior season, but it isn't slam dunk that he'll be Florida State's starting quarterback this year.
In Francois' absence, Florida State went to a true freshman in James Blackman to be their starting quarterback last year. Blackman had his ups and downs under center, but he was able to progress throughout the year. And since Taggart isn't attached at the hip to either Blackman or Francois, we could see a battle between these two signal callers all year long.
Last year in limited action, running back Jacques Patrick was able to average 5.6 yards per carry. Patrick should get the bulk of the carries this season, and at 6'3′, 231 lbs., he is a load that also has some speed.
Unlike in recent years, Florida State doesn't have a wealth of play makers who are ready to emerge on the defensive side of the football as they will be a work in progress as the season progresses.
The Seminoles might not ready to be a title contender once again in the Atlantic Coast Conference, but on Taggart's watch they won't be a pushover like last year.
Z-Louisville Cardinals 7-5 (4-4)
The 2017 college football season was an up and down one for the Louisville Cardinals, but they still managed to win eight games, while also qualifying for a bowl game for the eighth consecutive year. Bobby Petrino is in the midst of his second run as Louisville's head football coach and his second run hasn't been quite as successful as the first one due to the fact that the competition in the Atlantic Coast Conference has been stiffer than it was in Conference USA, or the former Big East Conference. The two teams who've been a thorn in the side of the Cards since they joined the ACC are the Clemson Tigers and Florida State Seminoles. In four years in the ACC, Louisville is a combined 2-6 against the Tigers and Seminoles which has prevented them from taking that next step. And now the Cardinals also have to worry about another up and coming program in the Atlantic Division of the ACC in the North Carolina State Wolfpack who defeated Louisville by 14 points last season. With a new season on the horizon, you know that Petino's Cardinals will once again have the offensive firepower in order to compete, but will they have the overall team to be able to hang with the big boys of the ACC?
After giving Louisville three exciting years which included winning the Heisman Trophy in 2016, quarterback Lamar Jackson has taken his talent to the National Football League which leaves a huge void for the Cards as he was the point guard of Petrino's fast paced offense. The Cards will now turn to sophomore Jawon Pass at quarterback who only saw limited reps in mop up duty of Jackson last year. But there is plenty of upside for Pass as at 6'4′, 220 lbs., he is an imposing figure at quarterback, while he has had two years to learn Petrino's system being that he was redshirted in 2016. And since Jackson was the central nervous system of Louisville's offense last year, the players around Pass are going to need to step up while he gets his feet wet.
Under Petrino, stout defensive football has never been a hallmark for Louisville which was evident once again in 2017 as they were 62nd in the nation in total defense. And in four of the Cards five losses last year, they surrendered at least 39 points. Brian VanGorder has been tabbed to be Louisville's new defensive coordinator as he'll be tasked with getting more out of this unit. However it won't be a cut and dry issue due to the fact that at previous stops as the defensive coordinator for the Auburn Tigers and Notre Dame Fighting Irish, his squads struggled. But in sophomore middle linebacker Dorian Ethridge, junior defensive end Jonathan Greenard, and sophomore TreSean Smith, VanGorder will have some talent to work with as it will be imperative for him to maximize it.
It's going to be tough for Louisville to get their season started on the right foot as they'll travel to Orlando to clash with the Alabama Crimson Tide of the Southeastern Conference who are also the defending national champions. And when conference play begins for Louisville, they'll be an up and down team that'll consistently be attempting to find their identity.
Z-Boston College Eagles 7-5 (4-4)
In five years as the head football coach of the Boston College Eagles, Steve Addazio has found a way to once make the program competitive. In the two years prior to Addazio taking over at Boston College, the Eagles only managed to win a combined six games. But in Addazio's first year at B.C., the Eagles were able to win seven games. Addazio has only had one losing season at Boston College, while four of his five years there have seen the Eagles finish with a record of 7-6. The Eagles are fighting a continuous uphill battle in the Atlantic Coast Conference due to the fact that their football facilities don't compare to the majority of the schools in the category, or in the nation for that matter. This has caused the Eagles to consistently miss out on getting the top high school football talent in the New England area to come to Chestnut Hill, but this hasn't stopped Addazio from finding a way to win on Saturdays. And as another college football campaign is set to begin, the Eagles will once again be wearing the hat of the underdog, but their opponents had better prepare for a fight on Saturday afternoon.
In regards to Boston College's offense, the best way to sum them up is "three yards and a cloud of dust". Last year B.C. averaged 4.7 yards per carry, while they were 25th in the nation in rushing with the front man for this ground attack being running back AJ Dillon. Last year as a true freshman, Dillon rushed for 1,432 yards and 13 rushing touchdowns. Dillon got better as the season progressed which included a pair of 200-yard rushing performances in the second half of the season. At 6'0″, 240 lbs., Dillon is a load, and I expect him to deliver body blows to opposing defenses in the first half of games before he delivers the knockout punch in the second half.
Senior left tackle Aaron Monteiro will anchor the offensive line that'll be opening holes for Dillon, and this unit brings a workman like approach to the gridiron which is right up Addazio's alley.
Very rarely do you see a defensive lineman as one of the top tacklers on a team, but that is the case for Boston College and senior defensive end Zach Allen. Senior free safety Lukas Denis is an enforcer in the secondary as well as a ball hawk. Last year Denis led the Eagles in interceptions with 7 as his talents will once again make him one of the top defensive backs in the Atlantic Coast Conference.
Boston College might not be good enough to win the Atlantic Coast Conference this year, but each of their opponents will find out the hard way that they won't be pushovers.
Z-Wake Forest Demon Deacons 6-6 (3-5)
Being able to consistently produce a winner for the Wake Forest Demon Deacons is never easy, but head football coach Dave Clawson is establishing a winning culture in Winston-Salem. In each of the last two years Wake Forest has surprised most observers as they were able to post winning records which includes a pair of bowl wins. Now the Deacons will head into a new college football campaign seeking to do something which has only been done one other time in program history, and that is to participate in a bowl game in three consecutive years.
Quarterback Kendall Hinton has spent the past two years serving as the backup to John Wolford. But with Wolford having graduated, Hinton will now have the chance to be the guy under center for Wake Forest in this his junior campaign. However Hinton has been suspended for the first three games of the season due to a violation of team rules which means that sophomore Jamie Newman who saw even less reps last season will be under center to start the year.
One big positive that the Deacons will have going into a new season is their running game. Led by left tackle Justin Herron, the Demon Deacons will have four seniors anchoring one of the most experienced offensive lines in the Atlantic Coast Conference as they'll be opening holes for senior running back Matt Colburn II. Colburn averaged 5.4 yards per carry last season, and he finished the season strong which included rushing for at least 100 yards in four of the Demon Deacons last six games.
After finishing 113th in the nation in total defense last year, the only way for the Deacons defense to go is up. Defensive coordinator Jay Sawvel is set begin his second year in Winston-Salem, and if his unit in unable to show some signs of improvement, it could be a long year for this program.
It will be interesting to see how this team will respond without having Hinton for the first three games of the year as it will more than likely dictate how the season plays out for them.
Syracuse Orange 5-7 (2-6)
The Syracuse Orange have three consecutive 4-8 seasons under their belt, while they have not made a bowl appearance since 2013. But once you take a further look at their upcoming campaign, they could be closer to breaking through in an Atlantic Coast Conference that doesn't get enough credit nationally for being as tough as it is. Through nine games last year, Syracuse was 4-5 when their defense faltered in a big way. Over the Orange's last three games, they surrendered a total of 162 points which is not going to cut it at any level of football. Dino Babers has two years under his belt as the head football coach at Syracuse, and even though that he has built a reputation for having a wide open brand of offense, he won't be any closer to ending the Orange's bowl drought in 2018 if his defense is unable to improve.
Brian Ward is set begin his third year as Syracuse's defensive coordinator and his unit has to improve after they were 106th in the nation in total defense in order to offset an offense that can put up points in bunches.
Senior quarterback Eric Dungey can put up stats in bunches. But due to the fact that Dungey doesn't have any play makers around him, while the defense will once again struggle, he'll see himself passing more as the 'Cuse will be playing catch up on the scoreboard.
Unless the Orange can find some semblance of order on defense, their struggles in the Atlantic Coast Conference will continue.
Coastal
Z-Virginia Tech Hokies 11-2 (7-2)
It has not taken head football coach Justin Fuente that long to get things turned around for the Virginia Tech Hokies. In just two years under Fuente, the Hokies are 19-8 which includes one appearance in the Atlantic Coast Conference Championship Game. The Hokies were close to another title game last year, but losses against the Clemson Tigers and Miami Hurricanes who were the two teams who would actually contend for the crown would prevent Virginia Tech from making a trip to Charlotte. However the Hokies should be able to build off of last season's close call as Fuente once again has a team that'll be one of the top squads in the ACC.
Virginia Tech sophomore quarterback Josh Jackson is a native of Ann Arbor, Michigan, and somehow the University of Michigan allowed him to get out there in order to play in Blacksburg, Virginia. Jackson has shown that he is right at home with Virginia Tech as he started in all 13 games for the Hokies in 2017. Jackson is a solid dual-threat quarterback, but when his ability to run is taken away from him, he cannot have the same impact on a game if he is solely asked to be a thrower which is something that must change in 2018.
But aside from Jackson being able to improve as a passer, Virginia Tech must get back to basics and enhance their running game. Last season the Hokies were only able to average 3.8 yards per carry as the running game has always been a staple of Virginia Tech's offense.
For the longest time Virginia Tech has had a strong reputation on defense which starts with defensive coordinator Bud Foster. Foster has been a defensive coach on Virginia Tech's staff since 1987, while he has been their defensive coordinator since 1995. Foster has always preached having an attacking and physical defense which led to Virginia Tech being tanked second in the Atlantic Coast Conference in total defense last year. Included in that dominance was the fact that six Virginia Tech opponents failed to score more than ten points, while three didn't score at all.
Virginia Tech lost some talent on that unit to the National Football League, but one player to keep an eye from this year's squad will be junior strong safety Reggie Floyd. We could be talking about an All-American as well as the Thorpe Award winner as they nation's top defensive back in Floyd. Floyd was third on Virginia Tech last year in tackles, while he also had 3 picks. And Floyd's ability to play the run and pass by Floyd has definitely caught the attention of the pro scouts.
We'll get to see what Virginia Tech has right out of the chute as they'll travel to take on the Florida State Seminoles. But the Hokies will avoid having to face Clemson in the regular season, while they will get Miami at home on November 17 in a contest that will go a very long way in determining who gets to Charlotte for the Atlantic Coast Conference Title Game.
Y-Miami Hurricanes 10-2 (6-2)
There is good news for the folks of South Florida, and bad news for the rest of the Atlantic Coast Conference as the team that invented "swagger" is back. From the early 1980's to the mid-1990's, and then again in the early 2000's, the Miami Hurricanes dominated college football as they won five national championships, while also sending a bevy of talent to the National Football League. When the Hurricanes are good, they are good for college football as they are a team that most people love to hate. And in just two years as the head football coach at Miami, Mark Richt has the folks in South Florida once again believing in this program. Richt's record at Miami is 19-8 which includes leading the Hurricanes to their first victory over their arch rivals in the Florida State Seminoles since 2009, while also leading the program to its first ever appearance in the ACC Championship Game. Richt has once again made Miami a force, and they could be ready to do even bigger things in 2018.
It's always a good thing to have some experience under center and the Hurricanes have some with senior quarterback Malik Rosier. 2017 was Rosier's first year as Miami's starting quarterback, and he showed that he has what it takes to win. Rosier threw 26 touchdowns last season, but he must improve his 54% completion percentage if the 'Canes are going to be a title contender.
Richt's teams have always been able to run the football, and last year Miami was able to average 5 yards per carry as the ground game will once again be en vogue for them. Last year as a sophomore, running back Travis Homer averaged 5.9 yards per carry. However Homer only had 163 carries last season and I would expect to see him get at least 200 touches this year as Miami's featured ball carrier.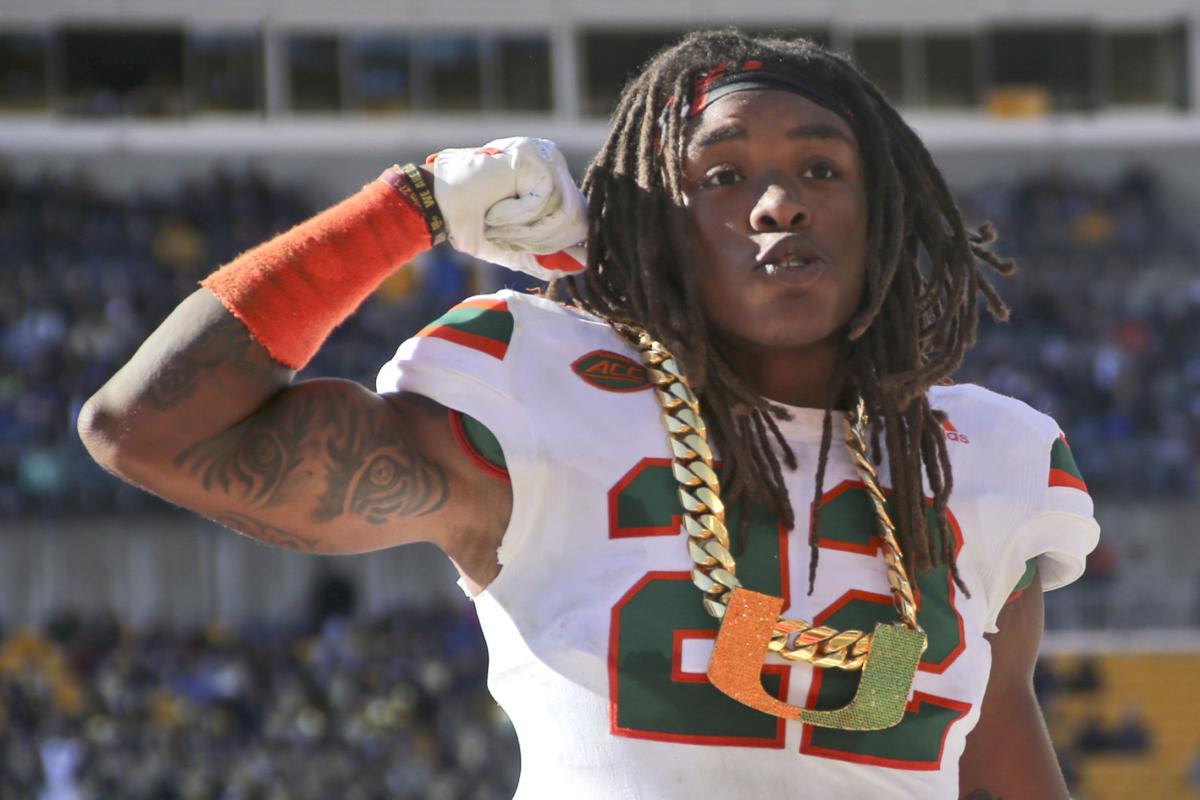 Under defensive coordinator Manny Diaz, the Hurricanes defense continues to improve, and they have fun doing it. Last year Diaz introduced the "turnover chain" which was worn by a defender on the sidelines each time that he forced a turnover. But aside from the gimmicks, Miami will have a solid defense here in 2018. Miami could arguably have the best linebacking unit in the Atlantic Coast Conference as this trio of juniors in middle linebacker Shaquille Quarterman, along with outside backers Michael Pickney, and Zach McCloud can all fly to the ball carrier, while they each possess range to play the pass. And in the case of Quarterman, we might be looking at the ACC's Defensive Player of the Year.
Diaz's attacking defense led to 44 sacks last year, while his unit was also to record 17 interceptions. And like it is for the linebackers, the 'Canes might also possess the best secondary in the Atlantic Coast Conference. Senior strong safety Jaquan Johnson, junior free safety Sheldrick Redwine, senior cornerback Michael Jackson, and junior corner Malek Young can all cover, while they each possess solid hands as we could be looking at "The Legion Of Boom" of college football.
Right out of the chute the Hurricanes will travel to AT&T Stadium in Arlington, Texas to face the LSU Tigers of the Southeastern Conference. And when Atlantic Coast Conference play begins, Miami will avoid having to face Clemson, but their November 17th meeting with the Virginia Tech Hokies will determine if they'll be able to get back to the conference title game for the second consecutive year.
Z-Georgia Tech Yellow Jackets 7-5 (5-3)
For the second time in three years, the Georgia Tech Yellow Jackets will enter a new college football season licking their wounds after failing to play in a bowl game in the previous season. As the Yellow Jackets were 5-6, they can look back at the fact that they were 1-3 in games which were decided by five points or less which is something must change in 2018 in order for them to compete in the Atlantic Coast Conference. But for Georgia Tech head football coach Paul Johnson, in his 22 years as a head coach, he has never posted consecutive losing seasons which bodes well for the Jackets as they look to bounce back.
With Georgia Tech's triple-option rushing attack, Johnson always relies on a solid quarterback to lead this operation and he has another one this year in senior TaQuon Marshall. Last year Marshall accounted for a combined 27 touchdowns on the ground and through the air as he paced the Yellow Jackets offense. And with junior running back KirVonte Benson as Marshall's top ball carrier to hand the football of to, the Jackets should once again have one of the top ground attacks in the nation as they were fifth in the country last year in rushing.
Under new defensive coordinator Nate Woody, Georgia Tech is shifting to a 3-4 defense which will put more emphasis on the linebackers to make plays.
In the tough Atlantic Coast Conference the Jackets will be frustrating matchup for opponents due to their frantic style of play.
Z-Duke Blue Devils 6-6 (3-5)
The 2017 college football season was an up and down one for the Duke Blue Devils. The Blue Devils would win their first four games before they lost their next six. However the Devils would bounce back to win their final three contests which included a bowl victory to earn their fourth winning season in the last five years. David Cutcliffe is set to begin his 11th season as the head football coach at Duke, and during that time his program has become respectable in the Atlantic Coast Conference. Heading into 2018, Cutcliffe and his Blue Devils will be a long shot to win the ACC, but that doesn't mean that they won't be able to play an exciting brand of football.
During Cutcliffe's time on the college football scene, he has developed a reputation as far as being a "quarterback guru". Cutcliffe's offensive system puts the quarterback in a system where he is comfortable, as it relies on having an accurate quarterback, while also focusing on high percentage passes. Junior quarterback Daniel Jones has two years under his belt in Cutcliffe's system, and after a pair of up and down years, he could be ready to be the most improved player in the Atlantic Coast Conference. The biggest thing that Jones must do is to learn how to get the football out quicker. In two years at Duke, Jones has been sacked 57 times, and if he is able to get the football out quicker, it will also improve his completion percentage, and at more life to the Blue Devils offense.
In limited action last season as a freshman, running back Brittain Brown was able to average 5 yards per carry. But this season Brown will be the featured ball carrier for Duke, and he will have the benefit of running behind an experienced offensive line which will feature three seniors as they'll be led by left tackle Christian Harris.
Junior outside linebacker Joe Giles-Harris will tackle anything that moves as he led the Blue Devils in tackles last season, and his play will be important for this team if they intend to reach a bowl game. Another player to watch out for on this Duke defense will be junior cornerback Mark Gilbert. Gilbert led the Blue Devils in interceptions last year with 6, and his ability to clamp on to the top receivers in the Atlantic Coast Conference will be key for this squad.
It will be another up and down season for Duke, but they will find a way to reach a bowl game.
Z-Virginia Cavaliers 7-5 (3-5)
It has not taken head football coach Bronco Mendenhall that long to have an effect on the Virginia Cavaliers. In just two years Mendenhall was able to get the Cavaliers to a bowl game for the first time in six years. But even though that Mendenhall was able to get his Cavs to a bowl game, he still has plenty of work ahead of him in order to get this program amongst the big boys of the Atlantic Coast Conference. After Virginia began 2017 with a record of 5-1, they would limp to the finish line with a mark of 6-7 which included only scoring 7 points over their final two contests. And the main word coming out of Charlottesville this year will be "consistency" as these Cavaliers look to become a force in the ACC.
Quarterback Lindell Stone saw very limited action last year as a freshman since he served as the backup to Kurt Benkert. But Stone's transition to being a starting quarterback will be aided by having a play maker such as senior Olamide Zaccheaus to get the football to. Zaccheaus is used as both a runner and a receiver, and as long as Stone can get him the football in space, Virginia will have a puncher's chance.
Defensively the Cavaliers had their ups and downs last year, but they could be a solid unit in 2018. Junior inside linebacker Jordan Mack and senior outside linebacker Chris Peace provide the defense with leadership, while senior cornerback Juan Thornhill is a stud in the secondary. And during Mendenhall's coaching journey, his defenses have flown under the radar, but they tend to be effective.
Virginia won't have to deal with a difficult schedule which should allow them to reach a bowl game for the second consecutive year.
North Carolina Tar Heels 4-8 (2-6)
The North Carolina Tar Heels will enter the 2018 college football season licking their wounds after a rough 2017 campaign. The Tar Heels went 3-9 in 2017 for their worst mark since 2006 as they were only able to produce one victory within the Atlantic Coast Conference. It was truly a struggle for the Heels as they were 96th in the nation in total offense, while they were 99th in defense. For North Carolina head football coach Larry Fedora, he finds himself in an unusual position as he must rebound from the worst season of his coaching career. And as the ACC has become a much more competitive football conference in recent years, Fedora and his Tar Heels will have their work cut in order to keep up.
One of the first things that Fedora must fix if Carolina is going to turn in around will be the team's issues at quarterback. Last year the Tar Heels used four different quarterbacks which is never a recipe for success. Sophomore Chazz Surratt saw the majority of the reps at quarterback last season, and he'll get the first crack at things this year.
Although that the Tar Heels struggled on defense last season, they could take some steps toward improving as many underclassmen were able to get their feet wet. After leading North Carolina in tackles last season with 93, middle linebacker Cole Holcomb is back for his senior campaign. Senior Malik Carney is an improving edge rusher, while junior free safety Myles Dorn could be an emerging play maker.
But with an overall lack of play makers on both sides of the ball, it will once again be tough sledding for the North Carolina in the Atlantic Coast Conference as the success train will pass them by.
Pittsburgh Panthers 3-9 (2-6)
After leading the Pittsburgh Panthers to a bowl appearance in his first two years as the school, things changed for head football coach Pat Narduzzi in his third season. With a record of 5-7, the Panthers failed to reach a bowl game for the first time since 2007. Pittsburgh never got off to a good start as a 2-3 start put them in a hole that they were never able to recover from. However the Panthers never gave up which saw them knock off the undefeated Miami Hurricanes in their final game of this season. And what Narduzzi has to hope for is that the momentum from that victory will be carried over into the new season for his program.
A big reason why Pitt struggled last year was due to their struggles on offense. Last year Pittsburgh was 97th in the nation in total offense which included failing to score at least 20 points four contests. And with the Panthers once again lacking play makers on offense, it will be an uphill battle for them in the Atlantic Coast Conference.
Pittsburgh must also find a way once again become enforcers on the defensive side of the ball as this is where Narduzzi's bread has been buttered throughout his coaching career. Two players to keep an eye on will be junior middle linebacker Saleem Brightwell and senior outside linebacker Oluwaseun Idowu. Both Brightwell and Idowu are sure tacklers with good instincts, and their ability will be important for a Pitt team that will need all of the help it can get in 2018.
It will be tough sledding once again for the Panthers as they'll need to pick up wins anyway possible in order to remain relevant.
ACC Championship Game-Charlotte, North Carolina-Clemson vs. Virginia Tech
Conference Champion: Clemson
X-College Football Playoff
Y-New Year's Six
Z-Bowl Eligible
Sources: Cfbstats.com, Sports-reference.com., Ourlads.com