X-Houston Astros 97-65
What a difference that four years made for the Houston Astros. In 2013, the Astros were the worst team in Major League Baseball. That year the Astros lost 111 games and it also marked their third consecutive campaign in which they lost at least 100 games. The Astros were in the midst of an ownership change, and as new team owner Jim Crane was taking on debt with his purchase of the club, it was all about rebuilding the franchise's minor league system. Piece by piece the Astros would improve with high draft picks such as outfielder George Springer and shortstop Carlos Correa. And last year the Astros reached the ultimate plateau in sports as they took home their first World Series Championship in franchise history. The Astros were able to become champs with their young core as well as some timely acquisitions of key veteran players. But unlike any other year for the Astros, they will be the hunted as opposed to the hunter, and you have to wonder if they will be up for the challenge.
A.J. Hinch is set to begin his fourth season as the manager of the Astros and he has his finger on the pulse of this team. Hinch has created a winning culture within the Astros locker room and you have a situation where the players police themselves and hold each other accountable.
Aside from the Astros coming into a new year as the defending World Series Champions, they also have the reigning American League MVP on their roster. In a short period of time, Astros second baseman Jose Altuve has gone from being a player that nobody wanted to becoming a household name. At 5'6″, Altuve was literally passed over because of his size, but he is now respected for possessing one of the best bats in Major League Baseball. In each of the last four years Altuve has led the A.L. in hits as he has tallied at least 200 hits in each of those campaigns. And as Alutve is in the prime of his career, don't expect him to slow down in 2018. Altuve is the catalyst for the Astros offense as he is a tremendous contact hitter who can spray the baseball all over the park. Altuve has averaged hitting 40 doubles per season for his MLB career, and once you factor in that he should bat at least .325, while hitting at least 20 homers for the upcoming season, it should signal the Astros having another good season, while he will look to repeat as A.L. MVP.
Outfielder George Springer is one of those first-round draft picks that has really panned out for Houston. Springer was selected 11th overall in 2011, and he has been with the big club since 2014. In four seasons with the Astros, Springer has 99 career home runs to his credit, while he enters the 2018 campaign as the reigning World Series MVP. Aside from Springer's power, he always finds a way to come up with the big hit, while he also has solid ranger in the outfield. And due to Springer's defensive ability, he will be a sleeper to win a Gold Glove this season.
Shortstop Carlos Correa is another one of those first-round picks that is coming into his own for the Astros. In 2017, Correa hit a career-high 24 home runs last season for Houston and he only played in 109 games. Correa also continues to improve on his defense which will lead to a Gold Glove Award in the near future, and it won't be that long before he is recognized as the best shortstop in the game.
Third baseman Alex Bregman was Houston's first round pick in 2015, and like Springer and Correa, he is beginning to come into his own as well. Bregman has that "it" factor that is needed for championship teams. Aside from Bregman having the potential to hit at least 25 home runs this season, he is also a tough out as he simply finds a way to get on base. Bregman knows how to fill up a stat sheet on offense, while his defense is not bad either as he could be another Astros player that could take home some individual hardware this year, such as an Gold Glove Award.
Infielders Marwin Gonzalez and Yuli Gurriel, along with designated hitter Josh Reddick add to an already deep lineup that scored 896 runs last season and they'll once again put a ton of pressure on opposing pitchers in the American League.
The Astros team earned run average of 4.12 was fifth in the American League last season, and they have the potential to have the best starting rotation in baseball. In 2017, starting pitcher Dallas Keuchel showed the ability on the mound that made him the A.L. Cy Young Award winner in 2015. Keuchel went 14-5 with an earned run average of 2.90. But the key now for Keuchel is that he needs to find a way to put together consecutive solid seasons and it begins with him being healthy. Keuchel has presence on the mound due to his ability to rack up strikeouts. Keuchel works best when he gets ahead of batters early on in the count, while he also knows to blow them away with his fastball.
Just prior to last year's trade deadline, the Astros acquired starting pitcher Justin Verlander from the Detroit Tigers. In five starts with the Astros last season, Verlander went 5-0 with an earned run average of 1.06, and he came up big during the postseason as well as he went 4-1. Verlander is 35-years of age, but he is a big game pitcher, and more importantly he has brought a high level of professionalism with him to the Astros starting rotation.
The Astros also added to their pitching depth this off-season when they acquired starting pitcher Gerrit Cole from the Pittsburgh Pirates. Cole was first overall pick of the 2011 Major League Baseball Draft, and he showed tremendous promise which included him winning 19 games in 2015. However this off-season the Pirates decided that it was time for them to begin rebuilding which made Cole expendable. Cole has an electric fastball that sets up his change up pitch, and joining a contender should bring out the best of him this season.
The Astros also have a solid bullpen which is needed for a contender. Last year relief pitcher Ken Giles made the most of his opportunity when Hinch made him the team's closer, while middle relievers such as Will Harris know how to come in and get the job done when their name is called.
It also helps the Astros situation that they have a veteran catcher behind the plate who can stabalize things. The Astros acquired catcher Brian McCann last year from the New York Yankees last year, and he paid immediate dividends due to his ability to work with Houston's pitching staff. At 34-years of age, McCann may no longer be the All-Star caliber player that he was earlier in his career, but he still knows how to call a game for a pitching staff, while he is also one of the best in the business when it comes to framing pitches.
The defending champs will open up on the road versus the Texas Rangers which should be interesting, while the remainder of April will be favorable for them. The Astros will get the best effort from each of their opponents this season, but this team appears to be up for the challenge to repeat.
Y-Los Angeles Angels 86-76
The Los Angeles Angels find themselves in the middle of a rut as they have missed the playoffs in seven of the last eight years. The Angels have the best player in the game on their squad in the form of outfielder Mike Trout, but that has not led to positive results on the baseball diamond as one man cannot do it by himself in baseball. And if the Angels fail to once again put a quality team around Trout, his exploits will again be wasted.
In watching Trout play, he is a cross between Mickey Mantle and Ken Griffey Jr. Defensively Trout has the best range of any center fielder that is currently in baseball. And of all the awards that Trout has taken home in his seven-year career, it's hard to believe that he has never claimed a Gold Glove Award. But with Trout's range, this will be the year that he finally wins it.
Trout missed 48 games last year due to a hand injury, but if he healthy this year there is no reason to believe that he once again will be named as the American League MVP. Trout has won the award two times already, and as you can all but pencil him in the hit .300, while belting 30 homers, stealing 30 bases, and driving in 100 runs, the fans in Orange County will once again be treated to greatness.
Last year the Angels acquired outfielder Justin Upton from the Detroit Tigers in order to provide some depth in the lineup behind Upton. Upton opted out of his contract this off-season, but Angels general manager Billy Eppler gave him an offer that he could not refuse as both sides reached an agreement on a five-year deal for $106.5 million. Upton is a solid power hitter who has hit 30 homers in a season three times during his 11-year career. But the biggest knock about Upton's hitting ability is that he is extremely streaky. Upton could hit 10 homers in one month and go yard twice over the next six weeks. The Angels will need a much more consistent Upton hitting behind Trout to help to provide balance for this lineup.
The Angels picked up another former Tiger when they acquired second baseman Ian Kinsler this off-season. Kinsler is a seasoned 12-year vet who will give the Angels stability at second base as well as a leader in the clubhouse. Aside from Kinsler, the Halos have a core of veterans which includes shortstop Andrelton Simmons and outfielder Kole Calhoun. Feet injuries have taken away the effectiveness of designated hitter Albert Pujols in recent years. At 38-years of age, Pujols is no longer the MVP caliber player that he was earlier in his career as his skills are fading. Pujols entered spring training this year slimmed down in the hopes to be more effective, but only time will tell if it'll work out for him and the Halos.
Pitching has been an issue for the Angels over the last few years, and it only get worse when the team missed out on acquiring starting pitcher Justin Verlander last summer from the Tigers. The Angels were tied for last in the American League in quality starts with just 61. No Los Angeles pitcher completed more than 181 innings of work, nor struck out at least 150 batters. But one ray of sunshine for the Angels starting rotation will be Parker Bidwell. In 20 starts for the Angels last season, Bidwell was 10-3 with an earned run average of 3.64, and if he is able to build off of that, the Halos could have themselves an ace of their staff for the first time in a long time.
But Eppler and Angels manager Mike Scioscia have high hopes that Shohei Ohtani could solve several issues. The Angels signed the Japanese star and they have plans on using him as both a starting pitcher, and as an outfielder in their lineup. However it will be interesting to see how this experiment will work out for Los Angeles.
Just like the starting rotation, the Angels bullpen has question marks as well. The Angels did acquire relief pitcher Jim Johnson from the Atlanta Braves this off-season in a move that is low risk, high reward. Johnson has been a solid closer throughout his career which included him having consecutive 50-save seasons as a member of the Baltimore Orioles. And the Halos are hopeful that Johnson will be able to rekindle some of that magic once more.
The Angels fell behind the Astros early on in the American League West last season and were never able to recover. The Angels will need to get off to a quicker start this season to not only keep up with the Astros in the A.L. West, but to also enhance their chances of making the playoffs.
Seattle Mariners 83-79
In more ways than one the Seattle Mariners are on the clock. The Mariners have the longest current playoff drought in Major League Baseball with their last postseason appearance coming back in 2001. And as the City of Seattle is all-in on supporting the Seahawks of the National Football League and the Sounders of Major League Soccer, while there are growing efforts get franchises in both the National Hockey League and NBA to the Emerald City, the Mariners must do something now if they don't want to be forgotten citizens in the Pacific Northwest.
Scott Servais is entering his third year as the manager of the Mariners, while general manager Jerry Dipoto is in his fourth with the club. Dipoto has shown that he is not afraid to make some moves in order to improve this team's roster, but he and Servais must find a way to have the Mariners playing baseball this October.
Once upon a time Mariners starting pitcher Felix Hernandez was one of the most dominating pitchers in baseball which was highlighted by him winning the American League Cy Young Award in 2010. However injuries have gotten the most of Hernandez over the last two years as he only made 41 starts. And when Hernandez has been healthy, he has not been effective as his fastball has lost some of its zip. Hernandez will be 32-years of age next month, and he is at the point of his career where he must reinvent himself on the mound. Hernandez is no longer going to consistently beat batters with his fastball as it is time for him to rely on his changeup and curve ball while also focusing on location as this will be the best way for him to be effective.
James Paxton is the only starting pitcher who was able to win at least 10 games for the M's last season, but this is a rotation that has nothing but question marks attached to it for 2018. No Mariners starting pitcher made at least 30 starts, or reached the 175 innings mark, and it'll be a long shot once again for this group.
Seattle had one of the top offenses in the American League last season, and that will once again to be in effect if this team is going to be a postseason contender. Designated hitter Nelson Cruz continues to defy age as he has become better as he's gotten older. Cruz has hit at least 39 home runs in each of the last four years, while he led the A.L. in runs batted in last season with 119. And aside from putting up gaudy numbers at the plate, Cruz also has the knack for coming up with big hits for the M's. However Cruz is 37-years of age, and at some point the other shoe has to drop in regards to his skills beginning to wane.
Second baseman Robinson Cano is no spring chicken either as he is 35-years of age. Cano is a lifetime .305 hitter, but he has failed to hit at least .300 in each of the last three seasons. However Cano is still a productive player for the M's; especially as a contact hitter and the 13-year veteran should once again be counted on to be one of the best players for Seattle.
If third baseman Kyle Seager played on a playoff contender, more people would talk about him. But unfortunately for Seager, most people know him simply as the big brother of Los Angeles Dodgers shortstop Corey Seager. However Seager is a solid player at the plate. Seager must work his defense though as the last three seasons have seen him combine to make 52 errors at the hot corner; especially since the Mariners pitching staff needs all of the help that they can get.
Last year marked the first year for shortstop Jean Segura with the Mariners and he gave them a viable option at the top of their lineup. Seguara is a proven .300 hitter who can get on base ahead of the M's big boppers which can spark the offense. But Segura will now have some help at the top of Seattle's lineup as the team acquired Dee Gordon from the Miami Marlins this off-season. Gordon exemplifies speed on the base paths as three of the last four years saw him lead the National League in stolen bases. Stealing bases is not the only thing that Gordon brings to the table as he is a career .293 hitter. But Gordon only drew 31 walks last year as he has not been known to work the count, and if he can add this to his repertoire, he and the rest of the Mariners lineup will benefit. However Gordon is a second baseman by trade, but the Mariners are moving him to the outfield which should be an interesting experiment; especially since Safeco Field in Seattle has a large outfield.
Things are beginning to come together for catcher Mike Zunino as he is beginning to shed the label of being an underrated player. Zunino hit a career-high 25 home runs last season in just 124 games. All signs points towards Zunino being the M's everyday catcher this season as his productivity should increase, and he'll be a sleeper to be an All-Star selection.
The Mariners recently signed 44-year old outfielder Ichiro Suzuki. Suzuki spent the majority of his 17-year Major League Baseball career with the Mariners which included him being the American League MVP in 2001. In his prime, Suzuki was one of the game's best hitters, but that is no longer the case. Suzuki's career will soon be coming to a close, and he will now have the opportunity to finish his MLB career where it started.
If the M's cannot solve their pitching woes, all of the offense that they'll produce won't matter as the team's chances of making the playoffs will be remote.
Texas Rangers 79-83
After winning 95 games in 2016 en route to winning the American League West, the Texas Rangers took a step back last year. The Rangers went 78-84 to finish third in the A.L. West. The injury bug hit the Rangers in their starting rotation as only one starting pitcher was able to make at least 30 starts. And although that the Rangers continue to have one of the top offenses in baseball, it doesn't mean a thing if they cannot field a pitching staff to compliment that. When Jeff Banister became the Rangers manager in 2015, he brought with him a very high level of professionalism that he continues to exude onto his team. And with a new season set to begin, the Rangers will need that professionalism if they would like to make the playoffs for the sixth time in the last nine years.
As previously mentioned, the Rangers bats will keep them in games as they don't mind a good old-fashioned slugfest. Last year Texas was third in the American League in homers with 237, while they fifth in runs scored (799). Last season Texas had six players hit at least 20 homers with infielder Joey Gallo leading the way with 41. 2017 marked Gallo's first full season in the Majors, and he still has aspects of his game that need to improve. Gallo does not hit for average as he only batted .209 last season. However Gallo was able to make up for this with a .333 on-base percentage. But Gallo must work on his plate discipline as he struck out 196 times last season. And although that Gallo has the power in his bat to be successful, he still needs to improve at the plate in order to be an even bigger threat in the middle of the Rangers lineup.
Like Gallo, second baseman Rougned Odor is a huge source of power for the Rangers, but his batting average must improve. After Odor hit .271 in 2016, his batting average plunged as he was barely above .200 at .204. For 2018, Odor must focus more on being a hitter as opposed to being a slugger. The power will still be there in Odor's repertoire, but being a better all-around hitter will be beneficial for Texas.
In recent years shortstop Elvis Andrus has taken his game to the next level. Andrus hit a career-high 20 home runs last season, but it is his ability to hit for average as well as stealing bases which is most beneficial for the Rangers. Andrus has averaged stealing 31 bases per season, while his batting average in each of the last two years. And if Andrus is able to have an on-base percentage of at least .350 in 2018, Texas will once again have one of the top offenses in the American League.
Outfielder Nomar Mazara is another player who is coming into his own for Texas. Mazara is another promising power hitter for the Rangers, and he will turn 23 until next month. Mazara has the potential to be an All-Star this season, and it would not surprise me to see him hit 30 home runs this year.
And then there is the case of third baseman Adrian Beltre. Beltre is set to begin his eighth season with the Rangers, and his 21st in Major League Baseball, but he is still a big contributor to this club. Injuries limited Beltre to just 94 games last season, but he was healthy enough to collect his 3,000 career hit. Beltre should be healthier this season, and even though that he will be 39-years of age next month, he will still have an impact on this team with his potential to hit close to .300. And I expect Banister to use Beltre more as a designated hitter in order to keep him fresh.
The Rangers pitching staff has struggled over the last few years and 2018 should be no different. Last year Texas' team earned run average of 4.66 was 11th in the American League, while none of their returning starters had an ERA south of 4.00. Starting pitcher Cole Hamels is coming off of one of the worst seasons of his career, and he needs to bounce back in a big way as he is the leader of this pitching staff. Injuries limited Hamels to just 24 starts, but he should be able to regain his post as one of the most dominant left-handed pitchers in baseball. And if Hamels is able put together a solid season, don't be surprised to see the Rangers put him on the trading block if they were to fall out of playoff contention.
Starting pitcher Martin Perez led the Rangers in wins last season with 13, while he was the only starter to start at least 30 games. However an elbow injury has put his availability to start the season in doubt which is only going to put more pressure on the Rangers lineup to carry this team.
Rangers general manager Jon Daniels did sign a pair of veteran starting pitchers in Matt Moore and Doug Fister, but neither pitcher has consistently put fear into opposing batters throughout their respective careers which doesn't give Texas a ton of hope for this season. And as the Rangers starting pitching is once expected to struggle, Banister will have to find a way to incorporate his bullpen without overworking them.
The Rangers will be an up and down team this season as it'll be a long shot to see everything come together for them.
Oakland Athletics 70-92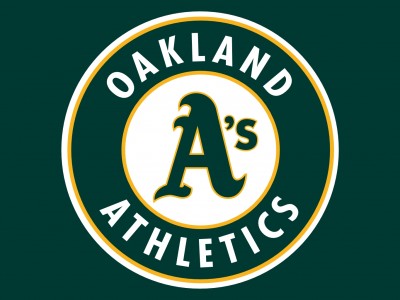 The Oakland Athletics are the prime example of the small market blues that are all too common in Major League Baseball. The Athletics are in a small market while they also play in the worst stadium in MLB. And when you factor all of that together, you get a team that has trouble generating revenue. After making the playoffs in three consecutive years, the A's have now posted three straight losing records as they've struggled to maintain their players which dates back to the dawn of free agency in 1975. The big market teams around baseball have caught up to the "moneyball" system of A's president of baseball operations Billy Beane, but that has not stopped him from still employing his "destroy and rebuild" philosophy as it is always about developing talent, signing under valued free agents, and trading them at contract time. But here in 2018, has Beane given manager Bob Melvin enough talent to work with in order to make the Athletics a playoff contender this year?
Last year the A's took a page from "The Bash Brothers" as they were fourth in the American League in home runs with 234. However Oakland was ninth in on-base percentage (.319) and runs scored (739), while they were 11th in batting average (.246). Outfielder Khris Davis led the charge with 47 homers and 110 runs batted in. Davis is another one of those under valued players that the A's specialize in finding as had an on-base percentage last season of .336. And although that Davis more than likely won't hit for average once again in 2018, he should still be one of the better power hitters in the A.L.
Oakland's pitching staff struggled mightily last season as no pitcher recorded at least 150 strikeouts, while Sean Manaea was the only starting pitcher to record at least 10 victories. The A's team earned run average of 4.67 was 12th in the American League and without any depth behind Manaea in the rotation, it is going to be difficult for them to keep up in the division.
14 of Oakland's first 16 games will be against American League West foes, and a slow start will put this team behind the eight-ball.
X-Division Winner
Y-Wild Card
Source: Baseball-reference.com