X-Washington Nationals 97-65
Since 2012, the Washington Nationals have been the team to beat in the National League East. Over this stretch the Nationals have claimed four N.L. East Titles which included them winning 97 games last year. But this success in the regular season has not transferred to the playoffs as Washington has failed to advance past the National League Divisional Series. The Nats have lost Game 5 of the NLDS each of the last two seasons at home which has left a bad taste in the mouths of their fan base. Washington is a team that is loaded with talent, but their inability to get it done in October has led to the team employing three different managers in the last six years. Now Dave Martinez will get his chance to be the Nats skipper as after spending seven years as the bench coach of the Tampa Bay Rays, and another three with the Chicago Cubs, he will look to implement some more sabermterics to this team, while also bringing some of the experience that he had from a 16-year Major League Baseball playing career to the table. But will the changes in Washington result in the Nats finally living up to their expectations?
The big question heading into the new season for the Nationals will be the status of outfielder Bryce Harper. Harper has captivated the fans in D.C. since 2012 with his on the field play which has included him being the National League Rookie of the Year in 2012 as well as being the N.L. MVP in 2015. There aren't too many players like Harper that are currently playing the game baseball as he is truly the total package. Harper has a strong arm in the outfield to go along with his range, while he is a terror at the plate. Already Harper is sixth all-time on the Nationals all-time list for home runs with 150 and he's averaged 32 dingers per campaign for his career. But what has done Harper in has been the injury bug as he has simply been unable to remain healthy.
Harper has never played all 162 games in a season which included him missing 51 contests last season. But with the start of a new season on the horizon, you can expect Harper to be locked in.
Harper is set to become an unrestricted free agent at the culmination of this season and his agent Scott Boras has been rumored to be seeking a $400 million payday for his top client. However I expect Harper to hold up his end of the bargain and take care of his business on the field in order to ensure a big payday which means that he could flirt with being the National League's MVP as well potentially setting single-season club record in categories such as home runs and doubles.
Whereas Harper may catch all of the back page headlines in the Nation's Capitol, third baseman Ryan Zimmerman continues to be the glue for the Nats. Zimmerman is coming off of a career year at the plate as he batted .303 to go along with 36 homers and 108 runs batted in. Zimmerman didn't get that much love in the National League MVP voting as he finished 20th, but he would become Washington's all-time leader in home runs (251), runs batted in (937), and doubles (371). Zimmerman will 34-years of age in September and whereas he is not showing any signs of slowing down, he'll enter the upcoming season just 31 hits shy of becoming the Nationals all-time leader in that category as well.
After third baseman Anthony Rendon was the sixth overall pick of the 2011 Major League Baseball Draft, it has not taken him that long to blossom into being a solid player. In each of Rendon's five seasons with the Nationals his numbers have improved. Rendon is continuing to be more disciplined at the plate as now has what it takes to combine being a power hitter, while also batting .300, as well as not being prone to striking out, and also drawing walks. Rendon is also a solid fielder at third base as he only committed 7 errors at third base for all of 2017. And as Rendon is now one of the best all-around players in baseball, he should get some consideration to be the National League's MVP this year.
The Nationals will miss not having the bat of second baseman Daniel Murphy in the lineup to begin the season. Murphy underwent knee surgery this off-season and there's is a possibility that he will begin the upcoming campaign on the disabled list as he recovers. And what the Nats would be missing without the services of Murphy would be a player that hit .322 last season which was second in the National League. The past few years have seen Murphy develop into a solid contact hitter who once he returns to the lineup for Washington will help this club arguably have the best balance in the N.L.
The depth of the Nationals lineup includes their team speed as they were third in the National League in stolen bases last year, and you can expect more of the same this season. After shortstop Trea Turner finished second in the National League Rookie of the Year voting in 2016, he came back last year and showed that he was no fluke. Turner stole 46 bases which was third in the N.L., and his speed on the base paths will be important as he looks to get on base in front of the big bats in Washington's lineup. However Turner is not the only speedster in the Nats as outfielder Michael  Taylor could be a 20-20 guy this season if he is able to get enough at-bats. Taylor fell just shy of the mark last season as he hit 19 home runs and stole 17 bases. But if Martinez is able to get Taylor 400-450 at-bats this season, he could become a 20-20 guy.
Washington is one of the most complete teams in the National League due to their pitching staff. Last season the Nats team earned run average of 3.88 was third in the N.L. and they should once again have one of the better pitching staffs. Since starting pitcher Max Scherzer joined the Nationals in 2015, he has been as good as advertised. In three years with the Nats, Scherzer's record is 50-25 with an earned run average of 2.76 to go along with 828 strikeouts. Scherzer's exploits on the mound have not gone unnoticed as he enters the new season as the reigning two-time N.L. Cy Young Award winner. In each of Scherzer's last six seasons, he has recorded at least 231 strikeouts. Some of the keys to Scherzer's dominance has been that he works quickly on the mound, while he is one of the best pitchers in baseball in regards to getting ahead of hitters very early in the count which allows to dictate the pace. And even if hitters are sitting on a fastball, they still have a difficult time in regards to catching up to it when it comes out of Scherzer's hand. But as Scherzer will be 33 in July, will the wear and tear of his recent dominance catch up to him this year?
Scherzer is what many people expected starting pitcher Stephen Strasburg to be when he was drafted first overall by Washington in 2009. But unfortunately for Strasburg, his career has been hampered by injuries as he has only made 30 starts in a season twice. And as Straburg will be 30-years of age in July, he is what he is at this point of his career which means that it's not a matter, but more like when he'll wind up on the disabled list this year.
For starting pitcher Gio Gonzalez, he has never been able to match the success that he had in 2012 when he went 21-8 in his first season with the Nats, but he has still been serviceable. And after Gonzalez was able to post an earned run average of 2.96 last season which was the second best for his career, he should put together a solid campaign in 2018 as he is set to become an unrestricted free agent next winter.
Currently there isn't a clear cut favorite to be the Nats closer, but veteran relief pitchers Ryan Madson and Sean Doolittle could emerge as players that Martinez can consistently count on in order to close out games in D.C.
There isn't a team within the National League East that can match up with the level of talent that Washington possesses; however this team is going to solely be judged by what they'll be able to do when the calendar shifts to October.
New York Mets 86-76
The old saying is that hope springs eternal, but that is not the case in regards to the New York Mets heading into a new Major League Baseball season. After the Mets made the playoffs in both 2015 and 2016, they struggled to win 70 games last season. Things never got off on the right foot for the Mets as April 19th was the last time that they were above .500. The Mets were never healthy all season long as New York had more talent on the disabled list than on the field. By the summer, the Mets had become a glorified minor-league team as the fans who were still willing to make the trek to Citi Field in order to watch them play needed their media guides just to figure out who was playing. 2017 was a complete disaster for the Mets which included the end of the line for Terry Collins as the team's manager. In seven seasons with the Mets, Collins compiled a record of 551-583, while he was 8-7 in the postseason. But as reports began to surface about Collins' tenure at the Mets skipper coming to an end in spite of the fact that he and the team publicly denied it, you knew that the writing was on the wall.
Collins is no longer the Mets manager, but he has remained with the team as a special assistant to general manager Sandy Alderson. Collins has been replaced as Mets manager by Mickey Callaway. Callaway spent the last five years as the pitching coach for the Cleveland Indians as he helped the unit have one of the lowest earned run averages in the American League. And also during Callaway's time with the Indians, starting pitcher Corey Kluber won the AL Cy Young Award twice. Callaway's first order of business with the Mets will be to keep the team's pitching staff healthy, while also getting them to live up to their potential which will be a tall task.
When the Mets were able to win the National League Pennant in 2015, we got a glimpse of what the future was supposed to be for the organization as they rode the arms of their young studs to the playoffs. But since then the young arms of the Mets have spent more time on the disabled list than they have on the mound.
Starting pitcher Matt Harvey has been with the Mets since 2012, but he has yet to throw at least 200 innings in any season, while he has not been the same player since helping New York reach the World Series in 2015. Harvey was coming off of Tommy John surgery, and after he exceeded the 150 innings mark in 2015, he appears to have not only lost some zip on his fastball, but also confidence in his throwing. Harvey was drafted by the Mets as a power pitcher, but as he'll be 29-years of age later this month, it is time for him to reinvent himself in order to become a pitcher and not a thrower. And with Harvey set to become a free agent after this year, you can expect him to be locked in all season long.
Another starting pitcher who'll be looking to get back on track for the Mets will be Noah Syndergaard. After Syndergaard was one of the few Mets starting pitchers who was able to remain healthy in 2016, his 2017 campaign was cut short due to a torn lat muscle in his right arm. Syndergaard had beefed up last winter, and the additional concentration on the weights may have led to the injury. If this were basketball Syndergaard would be labeled as a gym rat, and that dedication to his craft should allow him to come back strong in order to regain his spot as one the top power pitchers in the National League.
But unlike Harvey and Syndergaard, starting pitcher Jacob deGrom was able to remain healthy in 2017. deGrom made 31 starts for the Mets last season, while also leading the team in victories (15), earned run average (3.53), and strikeouts (239). At 6'4″, 180 lbs., deGrom is deceptive in regards to being a power pitcher, but his fastball is among the best in the National League. deGrom is coming off of the first year of his career in which he was able to pitch at least 200 innings; however he should be able to build off of that while also being in the mix to win the N.L. Cy Young Award for the first time in his career.
Along with the likes of starting pitchers Zack Wheeler, Seth Lugo, Robert Gsellman, and Steven Matz, the Mets could have some depth in their rotation. But it will come down to Wheeler and Matz who have spent plenty of time on the disabled list being able to remain healthy. However working with pitchers is Callaway's specialty which is what led Alderson to making him the new manager of the Mets.
In 2015, relief pitcher Jeurys Familia emerged to become the shutdown guy that the Mets needed to come out of their bullpen in the ninth inning. In 2015, Familia saved 43 games for the Mets which tied a club record, but in 2016, he would set the gold standard for the club by saving 51 games. However the 2017 Major League Baseball season was over for Familia even before it started. The Mets placed Familia on the disabled list in May after it was revealed that he was diagnosed with an arterial clot in his right shoulder. Familia underwent surgery and he would not appear in another game for the Metropolitans under August 26th. Familia finished the season with just 6 saves to go along with an earned run average of 4.38. Familia is seeking to get back on track this year, but it is not guaranteed that he'll be the Mets closer.
Callaway has thrown out the idea of the Mets having a "closer-by-committee" which means that Familia will have his shot, but you can also expect to see a healthy dose of AJ Ramos in the ninth. The Mets acquired Ramos from the Miami Marlins last July and he went on to saves 7 games in 21 appearances for New York. Like Familia, Ramos can be shaky at times, and because of that I don't expect the Mets to have that consistent guy in the ninth inning all season long.
Like the Mets pitching staff, the team's offense was in shambles as well as only three players recorded at least 400 at-bats in 2017. Outfielder Yoenis Cespedes was expected to the big bopper in the middle of the Mets lineup, but hamstring and quad injuries limited him to just 81 games. And if the Mets are going to be able to turn things around, Cespedes needs to regain the form that he had in 2015 when he belted 17 games in just 57 games. However the main problem with Cespedes has been that he is one of those players who plays when he wants to; especially when it is contract time. And in order for the Mets to be a contender, they will need a motivated Cespedes.
It didn't seem like it at first, but the marriage between outfielder Jay Bruce and the New York Mets has fared pretty well. The Mets acquired Bruce from the Cincinnati Reds in August 2016, and after a slow start in New York, his bat got hot in September to help the Amazins secure of postseason berth. With Cespedes out of the lineup for the majority of 2017, Bruce emerged as the team's best power threat as he belted 29 homers, while driving in 75 runs in 103 games played.
Last August, the Mets dealt Bruce to the Indians as he helped them win the American League Central. But over the winter Bruce would find his way back to the Big Apple after the Mets convinced him to return. What Bruce gives the Mets is another veteran presence in their lineup, while the team's front office was happy with his ability to be a leader.
This off-season the Mets took some flack for not being that active in free agency; however the signing of third baseman Todd Frazier is a move that will fly under, but could have a positive impact for New York. In seven Major League Baseball seasons, Frazier has averaged hitting 30 homers per year, and although that he doesn't hit for a high average, he knows how to get on base. Frazier can also provide the Mets with a solid glove at third base as the chances of David Wright playing at the hot corner this year and ever again are slim to none. Frazier is a local guy as he grew up in nearby Toms River, New Jersey, and he should be able to give the Mets a spark in the middle of their lineup.
Another veteran infielder that the Mets are rolling the dice on in 2018 is first baseman Adrian Gonzalez. At one time Gonzalez was one of the top five first basemen in Major League Baseball due to his ability in the field as well as at the plate. However age and injuries have taken away from what Gonzalez can do, but the Mets took a flyer on him being that they'll only have to cough up the league minimum for his services. After six seasons with the Los Angeles Dodgers, Gonzalez was traded to the Atlanta Braves this winter, but he would immediately be bought out which paved the way for him to Queens.
If the Mets are able to get 100 games out of Gonzalez and his aching back, it will be a huge positive as his main purpose in New York will be to work with Dominic Smith at first base.
Smith was taken 11th overall by the Mets in the 2013 Major League Baseball Draft and they are hopeful that he'll be their first baseman of the future. However Smith is still very raw, but you can see the potential that he has which includes his power at the plate. In 167 at-bats last year, Smith belted 9 homers, but he only batted .198, while striking out 49 times. Smith is only 22-years of age and must learn to lay off of pitches in the dirt which is something that he'll need to rely on the experience of Gonzalez as well as that of the Mets new hitting coach Pat Roessler.
Another youngster that the Mets are high on is shortstop Amed Rosario. Like Smith, Rosario is 22-years of age and he's been with the Mets organization since he was 16. Rosario is slick fielding shortstop who's glove work ranks him with some of the best who've played the position for the Mets which included Rey Ordonez and Jose Reyes. In 2018, the starting shortstop job with the Mets is Rosario's to lose as it is just a matter of whether or not that he'll be up for the challenge.
The Mets still have question marks around their lineup in regards to injuries. Since 2015, Wright has only appeared in 75 regular season games for the Mets, and he missed the entire 2017 campaign. Back, neck, and shoulder injuries have derailed Wright's career. And although that all signs point to Wright never playing again, the Mets are still holding out hope.
Outfielder Michael Conforto was coming into his own which included hitting 27 home runs last season. But unfortunately for Conforto and the Mets, he suffered a dislocated shoulder last season which ended his campaign and will keep him out of action this year until May at least. And even when Conforto returns, the Mets cannot expect him to immediately be the player that he was prior to the injury.
Of the Mets first five opponents this year, only the Washington Nationals made the playoffs last year. Callaway is looking to put some new life into the Mets as they look to hang around in the playoff race.
Philadelphia Phillies 77-85
It is no secret that the Philadelphia Phillies have fallen on hard times. After securing ten consecutive non-losing seasons which included five straight playoff appearances, and a World Series Championship in 2008, the Phillies have not had a winning season in each of the last six years. The Phils are coming off of their third consecutive campaign in which they lost at least 90 games. Andy MacPhail is in his third season as the Phillies president of baseball operations, and he is focused on building this team from the ground up. And as MacPhail is putting things together piece by piece in Philadelphia, the Phillies should be able to show some signs of improvement in 2018.
This past October, the Phillies named Gabe Kapler as the 54th manager of the franchise. Kapler enjoyed 12 Major League Baseball seasons as a utility man which included him winning a World Series Title as a member of the Boston Red Sox. Since 2014, Kapler was the director of player development for the Los Angeles Dodgers. In recent years the Dodgers have been big on sabermetrics which is something that he'll bring with him to Philadelphia. And although that analytics have their place in baseball, Kapler must find a way to help the Phillies in the most important category which is wins.
In 2017, Philadelphia was 12th in the National League in runs scored (690), and home runs (174). And for the first time under MacPhail, the Phillies made a splash in free agency when they signed first baseman Carlos Santana to a three-year deal for $60 million. Santana spent the last eight years with the Cleveland Indians where he developed into a solid power hitter. Santana is not a player that'll hit for average as he is a career .249 hitter. But Santana has a career 0n-base percentage of .365, while his offensive numbers should benefit with him playing at Citizens Bank Park which has always been hitter friendly. Santana could also be a key piece in a Phillies lineup that has some you and potential.
Last year in just 50 games, outfielder Rhys Hoskins belted 18 home runs, while driving in 48 runs. Hoskins finished fourth in the National League Rookie of the Year voting, and he'll be out this year to show that last year was not a fluke. Third baseman Maikel Franco has become a consistent 25-homer guy each year, but he is not a player that hits for average, while his defense needs work. Last year Franco's on-base percentage was just .281, while he committed 15 errors at the hot corner. And if the Phils are going to improve in 2018, their defense will be just as important as their offense.
First baseman Tommy Joseph can also hit at least 20 homers, but like Franco, he doesn't hit for average or get on base frequently. The Phillies were 13th in the National League in on-base percentage last season at .315 which was hindered by Joseph checking in with an OBP of .289. Joseph also struck out 129 times, and he'll need to learn to work the pitch count more during his opportunities as he'll more than likely split time with Santana at first base.
The Phillies pitching staff must also improve as their 4.55 team earned run average was 10th in the National League, while their 65 quality starts was tied for 11th. Starting pitcher Aaron Nola was the only hurler on this staff to win at least 10 games last season as he posted a record of 12-11. At the age of 24, Nola is developing into a frontline starter for the Phils and 2018 could be the year that he breaks through to pitch 200 innings as well as striking out 200 batters in a season at the Major League level.
Fortunately for Philadelphia, things turned in their favor during spring training when the team signed starting pitcher Jake Arrieta to a three-year deal for $75 million. Three years ago Arrieta was unhittable as he went 22-6 with an earned run average of 1.77 to win the National League Cy Young Award as a member of the Chicago Cubs. But things were not as smooth for Arrieta last season as he went 14-10 with an earned run average of 3.53. The Cubs subsequently gave up on Arrieta and he could have a chip on his shoulder this season when he takes the mound for the Phillies. Over the last two years Arrieta has thrown 30 wild pitches which is something that he must work on, and he will be at a disadvantage since he didn't have the luxury of having a full spring training under his belt. However with eight years of pitching to his credit at the Major League level, Arrieta will be expected to be a leader for this young pitching staff in Philadelphia.
The Phillies will take on the personality of Kapler as they'll play hard for him. But as MacPhail is committed to the youth movement, the Phillies are still a couple of years away from being a solid playoff contender.
Atlanta Braves 68-94
The Atlanta Braves are in the midst of a rebuilding process that has seen them take a step back in the National League East. The Braves have not made the playoffs since 2013 which was also the last year that they were able to post a winning record. And that rebuild took another turn when Alex Anthopoulos was named as the Braves executive vice president of baseball operations last November. From 2009-2015, Anthopoulos was the general manager of the Toronto Blue Jays which highlighted by him helping the franchise win the American League East in 2015. Anthopoulos has been known to make bold moves in order to build a contender which is something that the folks in Georgia are hopeful that he'll be able to do the same for the Braves.
Throughout the Braves rebuild, one constant for this team has been first baseman Freddie Freeman. Due to the Braves not being a playoff contender, Freeman's prowess on the baseball diamond has been under appreciated. Freeman is a consistent .300 hitter who can a put a team on his back. Freeman also knows how to flash the leather at first base. Freeman only committed 4 errors at first base last season, and he should be in the running to win a Gold Glove Award.
Outfielder Ender Inciarte will once again be a spark at the top of the Braves lineup due to his ability to get on base. Inciarte is a threat to hit .300, while he also has the potential to steal at least 25 bases. Enciarte's speed will be vital for the Braves as he'll be in the mix to hit 10 triples, while he already has a pair of Gold Gloves Awards to his credit due to his range in center field.
For the Braves to have a legitimate chance to make the playoffs, they will need to get more out of their starting pitching. Last year the Braves were 12th in the National League in team earned run average at 4.72. And no Braves starter posted a winning record, while starting pitcher Julio Teheran led the club in victories with 11. And as the Braves are once again lacking depth in their starting rotation, 2018 will be another long season for them.
As manager Brian Snitker is set to begin his second full season with the Braves, his team will compete, but they'll a supreme long shot to reach the postseason.
Miami Marlins 64-98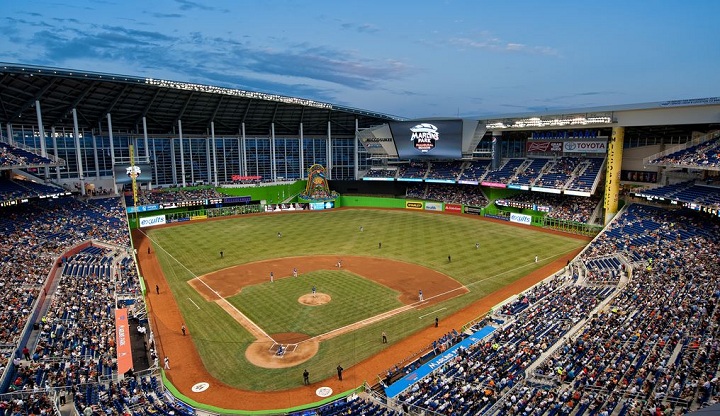 The outlook for the Miami Marlins in 2018 is bleak at best as the white towel has already been thrown in. A new ownership group which includes former New York Yankees shortstop Derek Jeter took over the Marlins last year and this off-season they decided to have a vintage fire sale that the people who follow this team are all too familiar with. The first move saw the Marlins trade second baseman Dee Gordon to the Seattle Mariners which was followed by sending outfielder Giancarlo Stanton to the Yankees. The Marlins did not receive too many prospects in return for Stanton being that the Yankees were willing to pick up the majority of his massive contract and his departure will leave a huge void in Miami's lineup. Last season Stanton was the National League MVP as he belted 59 home runs and he leaves South Florida as the Marlins all-time leader in home runs with 267. Aside from Stanton, the Marlins also traded outfielder Marcell Ozuna to the St. Louis Cardinals. And the cherry on top of this mess in Miami was the Marlins shipping outfielder Christian Yellich to the Milwaukee Brewers. By trading both Stanton and Ozuna, the Marlins parted with 96 home runs and 256 runs batted in last season to go along with Ozuna leading the team in batting average a .312. However you cannot forget about the contributions of Gordon who stole 60 bases last season, while he also led the Marlins in hits with 201. But as the Marlins enter 2018 fresh off of producing eight consecutive losing seasons, there is hardly any optimism for manager Don Mattingly to build off of.
One player to keep an eye of this season for the Marlins will be first baseman Justin Bour. For Bour he is now the Marlins best power hitter in the Marlins lineup. However Bour has never been able to fully live up to his potential during his Major League Baseball career due to the fact the he's been unable to remain healthy. In four MLB seasons Bour has never appeared in more than 129 games, but he will need to stay healthy this time around as he will be asked to do more.
The biggest name that the Marlins received when they traded Stanton was second baseman Starlin Castro. In eight years in Major League Baseball, Castro has always been one of those players that has potential to be star, but he has never been able to put it altogether. Castro batted .300 last season in 112 games with the Yankees as he benefited from playing in the hitter friendly Yankee Stadium, along with being protected in a stacked lineup. But the Marlins will need Castro to be a leader which is something that he failed to do during his time with the Chicago Cubs.
In 2017, the Marlins pitching staff was nothing to write home about as their team earned run average of 4.82 was 13th in the National League. The Marlins also only had 54 quality starts which was last in the N.L. as pitching coach Juan Nieves will have his hands full in order to make this unit respectable. But one positive for the Marlins last season was the emergence of starting pitcher Jose Urena. Urena went 14-7 with an earned run average of 3.82. Urena is still developing as a pitcher and he must work on his control. Urena hit 14 batters last year which was tops in the N.L., and we'll have to wait and see if the Marlins will trust him enough to pitch at least 200 innings this year.
It's no secret that the Marlins will be the whipping boys of the National League East in 2018. And as the season will be a wash in South Florida, the Marlins might as well as go ahead and trade away the rest of their players that have value.
X-Division Winner
Source: Baseball-reference.com