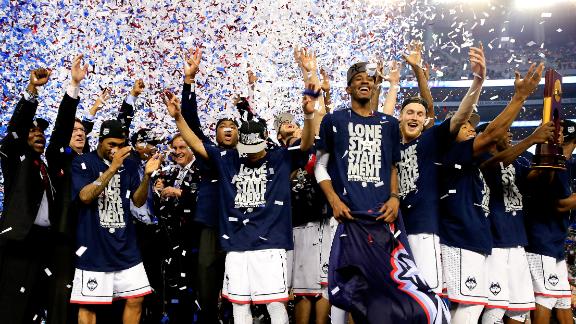 Brick by brick the Connecticut Huskies were built into a powerhouse in men's basketball. Connecticut was one of the charter members of the Big East Conference in 1979 and they would initially take a backseat to the superpowers of the conference in the Georgetown Hoyas, St. John's Red Storm, Syracuse Orange, and Villanova Wildcats. But by 1990, people started to take UConn serious as they won their first Big East Title and were within an eyelash of reaching the Final Four. The rest of the 1990's would see Connecticut remain as one of the top basketball programs in the nation, and it was fitting that the decade ended with the Huskies claiming their first national title. In all UConn has claimed four national titles since 1999 which is something that no other men's basketball program can boast about over that stretch. But whereas other national powers such as the Duke Blue Devils, North Carolina Tar Heels, Kentucky Wildcats and Michigan State Spartans have been able to keep their respective basketball machines rolling, Connecticut has fallen on hard times.
This season UConn is 10-8 and unless something drastic happens within the next two months, they are looking at missing the NCAA Tournament for the third time in the last four years. Kevin Ollie is Connecticut's current men's head basketball coach and he took over in 2012 for the retiring Jim Calhoun. Ollie is 123-68 during his time at Connecticut which includes winning a national championship in 2014. Ollie knows what it takes to win at UConn as aside from coaching at Connecticut, he played there during the 1990's and helped the Huskies reach the Elite Eight in 1995. However the tradition of UConn has gone by the wayside as Ollie has a very tough assignment in front of him which is being unable to recruit star players.
For years Connecticut benefited from operating under the umbrella of the Big East Conference. UConn was able to enjoy the best of both worlds as Calhoun was able to recruit the top players from Boston and New York City. And once Calhoun had shown what he could do, he was able to expand his recruiting. Throughout the 1990's and 2000's, future NBA players such as Ray Allen, Richard Hamilton, Ben Gordon, Rudy Gay, Caron Butler, and Ben Gordon all starred for Calhoun at Connecticut as his ability to develop NBA first-rounders made his program a landing spot for some of the top high school basketball talent in the nation.
But once the original Big East Conference split in 2013, UConn was left on the outside looking in. The Atlantic Coast Conference had taken Syracuse, as well as the Louisville Cardinals, Notre Dame Fighting Irish and Pittsburgh Panthers for the expansion, while the non-football schools of the Big East were allowed to keep the name of the conference as they formed a new basketball league solely comprised of non-football schools. School officials at Connecticut attempted to lobby in regards to joining the ACC, but they were rebuffed as they had to settle for becoming inaugural members of the American Athletic Conference.
Connecticut has enjoyed some success within the AAC which was the conference that they were affiliated with when they won their last national title in 2014; however that championship came with many players who had been recruited to UConn when they were still in the Big East. The Huskies no longer play at Madison Square Garden which had been a home away from home for them as they would play there each year against St. John's as well as in the Big East Tournament. And Calhoun would use playing at MSG, along with the close proximity of UConn's campus to the Big Apple in order to recruit players from that area.
But now in the American Athletic Conference, the Huskies don't have any of those luxuries as their conference tournament rotates from different campus sites, while they have lost their identity altogether. Aside from being 10-8 this season, the Huskies are 3-3 this season within the AAC as they are now attempting to rebound from Tuesday night's 73-49 blowout loss to the Memphis Tigers. In all Connecticut has four losses this season which have come by at least 20 points as a bid to the NIT could be the best possible solution for them to salvage this season.
Another season without an NCAA Tournament bid could see the rumblings begin in regards to replacing Ollie at UConn, but the problems there are much bigger than him. The main reasons for Connecticut not being welcomed by the Atlantic Coast Conference a few years ago came down to the fact that they are not a recognized brand in football (which was the main reason for conference re-alignment) and the ACC didn't need the New England market since they already had the Boston College Eagles which left UConn in limbo.
A perfect solution for Connecticut would be to leave the American Athletic Conference and become a football independent in order to attempt to re-join the Big East for the sake of their basketball program. But that is a long shot at best being that Connecticut football is not strong enough to hold its own as a football independent, while the non-football schools of the Big East more than likely don't want any parts of another football school after the messy divorce of the original Big East in 2013. And with that said Connecticut needs to go back to what put them on the map in the first place which was to just focus on getting the local prospects to come to Storrs.
UConn needs to find a way to win the Hartford area, and then expand to Boston as well as New York City, while foregoing its national recruiting practices for now. Of Connecticut's current team, two players are from Connecticut with one player from Massachusetts, and five from New York State, while the others are from different parts of the country. What helped to make the original Big East a power was their ability to recruit local kids, and once the conference became a national brand, then they expanded their recruiting which is a model that can once again be successful for UConn.
It's hard to believe but Connecticut has only produced three first-round picks since 2012 when being drafted early after playing for the Huskies was a common practice. And while the new non-football schools of the Big East are thriving which includes Villanova winning the national title in 2016, a once proud program in UConn is languishing now as a basketball also-ran.