Mountain
Y-Boise State Broncos 9-3 (7-1)
Through the first seven games of the 2016 college football season, the Boise State Broncos appeared to be the team to beat in the Mountain West Conference, while also having a chance to make a New Year's Six bowl game. The Broncos were 7-0, but they would lose two out of their last five games. And being that those losses came to the Wyoming Cowboys and Air Force Falcons, Boise State missed out on a chance to get back to the Mountain West Title Game. Boise's slide would continue as they lost their bowl game by 19 points to a Baylor Bears team that entered the game on a six-game losing streak. And for Boise State head football coach Bryan Harsin, he and his team must find a way to bounce back after letting things get away from them towards the end of 2016.
For Harsin, his Broncos should once again have one of the most balanced offenses in the Mountain West. Last year Boise had the 21st ranked offense in the nation as it was under the command of first-year offensive coordinator Zak Hill.
If it wasn't for the exploits of San Diego State Aztecs running back Donnel Pumphrey, Boise State quarterback Brett Rypien would have been the Mountain West Conference's Offensive Player of the Year. But with Pumphrey now in the National Football League, the award is Rypien's to lose this year.
Rypien is set to begin his junior year and he is one of the most efficient quarterbacks in school history. Last year Rypien completed nearly 62% of his passes. Rypien knows how to spread the football around, and most importantly he has solid pocket awareness. Rypien also doesn't get fazed quickly which is important as his demeanor should once again pay dividends for the fortunes of Boise State.
The Broncos will miss the contributions of running back Jeremy McNichols who is now in the National Football League, but they have shown the ability to be able to replace players when they move on. Sophomore running back Alex Mattison should get the bulk of the carries this year for the Broncos after he was the understudy to McNichols last season. At 5'11", 216 lbs., Mattison will look to use his speed and elusiveness to compliment Rypien, and I also anticipate him being used coming out of the backfield as a receiver which will add another element to the Broncos offense.
Senior wide receiver Cedrick Wilson has the potential to be the best pass catcher in the Mountain West this season. Wilson spent last year as being one of the go-to-guys in the passing game for Rypien and with his height being 6'3″, he will once again have an advantage versus defensive backs in the conference.
Defensively the Broncos must replace their top four tacklers from last year's team, but one standout player to keep an eye on will be junior defensive tackle David Moa. At 6'3″ 272 lbs., Moa is a little light for the defensive tackle position; however he possesses a high motor which allows him to split double teams in order to wreak havoc in an opponent's backfield.
Winning the Mountain West won't be easy for Boise State as they'll have road games versus San Diego State and the Colorado State Rams, while their non-conference schedule includes road meetings with the Washington Cougars of the Pac-12 Conference and the BYU Cougars.
X-Wyoming Cowboys 8-4 (6-2)
2016 saw the Wyoming Cowboys produce one of the best turnarounds for the year in college football. The Cowboys were only able to win two games in 2015, but they came out of nowhere last year to go 8-6 which was good enough for them to win the Mountain Division. Wyoming's turnaround led to their head football coach Craig Roh being named as the Mountain West Conference's Coach of the Year as "Cowboymania" took over Laramie. However as the Cowboys were able to sneak up on teams last year, what will they be able to do this time around when the rest of the Mountain West is focused on slowing them down?
When quarterback Josh Allen was on he was as good as any other signal caller in the Mountain West, however when he struggled, the fortunes of the Cowboys went south. Of Allen's 15 interceptions last season, 12 of those came in Wyoming losses and as his junior campaign is set begin, he must cut down on the turnovers while also becoming more accurate. However it won't be as easy for either Allen or Wyoming as he won't have the same amount of talent around him on offense.
Wyoming was able to win the Mountain Division last year in spite of the fact that they were 104th in the nation in total defense. Wyoming surrendered at least 50 points in a game three times which resulted in the school moving on from Steve Stanard as their defensive coordinator. Former Jacksonville Jaguars assistant linebackers coach Scottie Hazelton will be Wyoming's new defensive coordinator. It doesn't help the Cowboys situation that their top two tacklers from last season were defensive backs, however middle linebacker Logan Wilson was able to tally 94 tackles as a freshman. And being that the Cowboys were able generate 15 interceptions in 2016 which includes the return of junior strong safety Marcus Epps and sophomore cornerback Tyler Hall, this unit will be able to somewhat balance off the yards in which they surrender.
Wyoming won't be dealing with an easy non-conference schedule as they'll travel to face the Iowa Hawkeyes of the Big Ten Conference, while they will also host the Oregon Ducks of the Pac-12 Conference. And when Mountain West play begins, Wyoming's season will be defined by a road game against the Boise State Broncos and the Air Force Falcons in November as these two meetings will have a big bearing on who will get to the conference championship game.
X-Colorado State Rams 8-4 (6-2)
It's been under the guidance of two different head football coaches, but the Colorado State Rams have made a bowl game in each of the last four years and a winning record here in 2017 could send them bowling for a fifth consecutive season which would mark just the second time in school history that this has occurred. Mike Bobo is entering his third year as Colorado State's head football coach and he has a team that is capable of vying for a spot in the Mountain West Championship Game.
Nick Stevens has been Colorado State's starting quarterback in each of the last two years and that experience should benefit him in this his senior campaign. Stevens' best asset is that he takes care of the football as he only threw 5 interceptions last year, while he was able to complete more than 64% of his passes. And if Stevens continues to do a good job in regards to protecting the football, the Rams should be one of the better teams in the Mountain West.
Senior running back Dalyn Dawkins and junior running back Izzy Matthews each have the ability to gain at least 1,000 yards on the ground. Both Dawkins and Matthews are explosive as they push each other for reps. Prior to taking over at Colorado State, Bobo was the offensive coordinator of the Georgia Bulldogs and his system there thrived on using multiple running backs. This tactic keeps both ball carriers fresh and it should pay dividends for the Rams when the second half of the season rolls around.
Senior wide receiver Michael Gallup is a dependable target in the passing game for Stevens and he has the potential to be one of the better pass catchers in the Mountain West, while the Rams also have one of the most experienced offensive lines in the country that features senior left tackle Trae Moxley.
2016 was not a banner year on defense for the Rams, but they will enter the upcoming season with some play makers on that side of the football. Junior free safety Braylin Scott along with junior middle linebacker Josh Watson should be impact players this year for Colorado State and hopefully this unit will be able to do enough to keep up with their offense which will be one of the best in the Mountain West.
Special teams is always strong for the Rams as they possess one of the best kickers in the country. Junior kicker Wyatt Bryan possesses a strong leg which included him connecting on three kicks from at least 40 yards out last year. Bryan also has the benefit of thin Rocky Mountain air which is always an advantage for Colorado State.
On September 1st, the Rams will have their annual meeting with their in-state rival in the Colorado Buffaloes of the Pac-12 Conference, while they will travel to Tuscaloosa to meet the Alabama Crimson Tide of the Southeastern Conference on September 16. And when Mountain West plays begins, the Rams will have a four-game stretch against the New Mexico Lobos, Air Force Falcons, Wyoming Cowboys, and Boise State Broncos which will go a long way in determining whether or not that they'll be able to reach to conference title game for the first time in school history.
X-New Mexico Lobos 7-5 (5-3)
It has taken New Mexico Lobos head football coach Bob Davie some time, but he has gotten his program on track in Albuquerque. After the Lobos never won more than four games in each of their first three years under Davie, they've won a combined 16 games over the last two years which included winning 9 games last season for the first time since 2007. And now after New Mexico was an afterthought, Davie has a team that could be ready to win the Mountain West Conference.
What has allowed this turnaround at New Mexico is Davie's commitment to the running game. Last year the Lobos averaged 350 yards on the ground which was tops in the nation as they averaged 6.6 yards per carry. Senior quarterback Lamar Jordan and junior running back Tyrone Owens will be a big part of New Mexico's triple-option attack. And as the Lobos running game will depend on the blocking of an offensive line which features three seniors as the unit if led by left tackle Raymond Baylor III and center Blaise Fountain, this offense will once again be difficult for defenses in the Mountain West to handle.
But it will be very important for New Mexico's offense to be able to dictate things as their defense lacks play makers which means they are going to have to continuously win the time of possession battle in order to keep their defense fresh.
The schedule for the Lobos won't be easy as they'll face the Boise State Broncos, Wyoming Cowboys, and San Diego State Aztecs, while they will also dip out of conference to face the Texas A&M Aggies of the Southeastern Conference in College Station on November 11.
X-Air Force Falcons 6-6 (4-4)
When it is time to discuss the top college football programs that the Mountain West Conference has to offer, you cannot go too far without mentioning the Air Force Falcons. Over the last three years Air Force won a combined 28 games as the triple-option running game of head football coach Troy Calhoun has kept defenses around the Mountain West on their toes. But whereas that the Mountain Division is much more difficult to navigate than the Western Division, will Air Force get lost in the shuffle this season?
The biggest key to operating a successful option attack is to have an experienced quarterback leading the charge. Junior quarterback Arion Worthman will be leading the charge after he saw some action in 2016. Worthman will team with senior running back Timothy McVey to be the two focal points of the Falcons rushing attack which could be a successful combination in Fort Collins.
Air Force will also possess one of the most experienced offensive lines in the Mountain West which has four seniors and a junior. Senior center Alexander Norton is the anchor for this group as they could potentially be paving the way for a pair of 1,000-yard ball carriers in McVey and Worthman.
There will be a huge question mark on defense for the Falcons as they lost so much talent from last year's team and it will take some time for everything to come together for them.
Unfortunately for Air Force, they will face the New Mexico Lobos, Colorado State Rams, and Boise State Broncos all on the road this season as they will be a long shot to reach the Mountain West Championship Game.
Utah State Aggies 2-10 (1-7)
It appears that the well has run dry for the Utah State Aggies. The Aggies went 3-9 last season and in the process their streak of making a bowl game came to an end after five consecutive trips. For Utah State head football coach Matt Wells, he must find a way to get his team to compete better as they lost five games by at least 11 points, while they were only able to win one game within Mountain West Conference. And as the Mountain Division is once again loaded, it could be easy for the Aggies to get lost in the shuffle.
The Aggies simply don't have the talent to win right now in the Mountain West which is going to make this a very long season in Logan.
West
X-San Diego State Aztecs 9-3 (7-1)
The Rocky Long era has been a successful one for the San Diego State Aztecs. Long has been San Diego State's head football coach since 2011 and he is orchestrating one of the best runs in program history. The Aztecs have won the Mountain West Conference in three of the last five years as they'll enter the new season as the two-time defending champs. And as the Western Division is once again expected to be weak, will anyone be able to overtake Long and San Diego State?
The Aztecs will enter the upcoming season without the services of running back Donnel Pumphrey who after setting a Football Bowl Subdivision record with 6,405 career rushing yards is now pursuing a career in the National Football League. But the Aztecs running game won't miss a beat as senior running back Rashaad Penny is set to be the primary ball carrier. Penny was Pumphrey's understudy last year and he still managed to gain 1,005 yards on the ground while Pumphrey went for 2,133. Like it was with Pumphrey, speed is the name of the game for Penny as San Diego State's running game will once again be among the best in the nation.
Junior quarterback Christian Chapman should be able to once again feed off of San Diego State's powerful rushing attack. Last year Chapman was extremely efficient as he was able to complete 61% of his passes while only being intercepted 6 times. San Diego State does not throw the football as much as other programs do, but when it happens they are very productive.
One thing that could hinder the Aztecs offense this season is their inexperienced offensive line. Including left tackle Tyler Roemer, San Diego State's starting offensive line will have two freshman, while the lone senior in the bunch will be right guard Antonio Rosales. This could be a problem for the Aztecs early on, however as the season progresses they should be able to improve.
Danny Gonzales is set to begin his first season as San Diego State's defensive coordinator and he inherits a very opportunistic group. Last year the Aztecs were 11th in the nation in total defense, while they also led the country in interceptions with 26. Senior cornerback Kameron Kelly and sophomore cornerback Ron Smith combined for eight interceptions last year and this duo could once again be one of if not the best corner combo in the Mountain West. Junior outside linebacker Ronley Lakalaka is a solid tackler while he combines that with good range which means that it will once again be difficult for opponents to score points against the Aztecs.
The Aztecs should once again benefit from the Western Division not having that much competition for them which means that a third consecutive Mountain West Title could be around the bend for them.
X-UNLV Rebels 6-6 (4-4)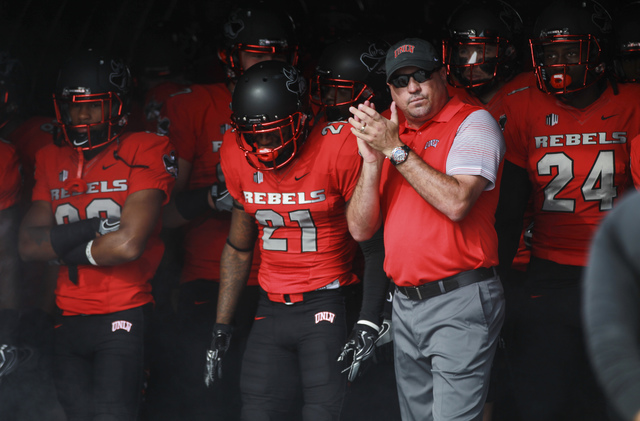 As Tony Sanchez is set to embark on his third season as the head football coach of the UNLV Rebels, he is attempting to do something that has never been done in the program's history which is to make them a consistent winner. Since 2000, UNLV has only had two winning seasons and you have to go all the way back to 1984 to find the last time that they were able to win at least 10 games. Sanchez is attempting to turn the Rebels into winners and making a bowl games here in 2017 would be huge.
For the Rebels, winning football relies on a basic game plan on offense which focuses on the rushing the football. Last year Nevada-Las Vegas was 15th in the nation as they averaged 5.6 yards per carry as a team. There is not one player that opponents can focus on in UNLV's running game as Sanchez has done a solid job in regards to spreading the love. But being that UNLV needs to improve defensively as they were 80th last season in total defense, will they be able to overcome defensive inefficiencies to make a bowl game for the first time since 2013?
UNLV should be slightly improved from last season, however finishing the regular season with consecutive road games against the New Mexico Lobos and Nevada Wolf Pack will have a huge part in whether or not that they'll be able to go bowling this season.
X-Hawaii Rainbow Warriors 6-6 (4-4)
Nick Rolovich's first year as the head football coach of the Hawaii Rainbow Warriors was very successful as he was able to lead the program to a bowl game for the first time since 2010. Hawaii is not an easy place get the top high school football recruits to attend as players are weary about making the trip from the Continental United States to Honolulu, while the top talent on the Hawaiian Islands tends to get recruited to play for West Coast powerhouses such as the USC Trojans. But Rolovich isn't in the business of making excuses as the Rainbow Warriors will head into the new college football campaign seeking to do something that they have not done since 2008 which is to make a bowl game in consecutive years.
Junior quarterback Dru Brown has been dependable for Hawaii as he is a player who tends to protect the football. As running back Diocemy Saint Juste is ready to begin his senior season, he will look to build off of his breakout campaign in 2016 that saw him gain 1,006 yards on the ground, while he averaged 6.1 yards per carry. The Rainbow Warriors will also benefit from having a solid offensive line as led by senior left tackle Dejon Allen, there will be three seniors as well as a junior on the starting unit.
Defensive football has never been a specialty for the Rainbow Warriors which included them being 112th in the nation last season in total defense. Legi Suiaunoa is set to embark of his first season as Hawaii's defensive coordinator and the only way for his unit to go is up. Junior middle linebacker Jahlani Tavai led the Warriors in tackles last season with 129 while he was the team's best pass rusher as he had 7 sacks and he'll once again be an impact player for them. Senior safety Trayvon Henderson can fly around in the secondary in order to cover ground as both he and Tavai have the potential to be All-Mountain West performers.
The defense could once again be an issue for the Rainbow Warriors, but they should be in position to once again take advantage of a weak Western Division in the Mountain West in order to reach a bowl game.
Nevada Wolfpack 4-8 (3-5)
In four years as the head football coach of the Nevada Wolf Pack, Brian Polian was never able to maintain the level of success which had been established by his predecessor Chris Ault. Ault was the innovator of the "pistol offense" who led Nevada to new heights which included winning 13 games in 2010. However Ault's success came when Nevada was in the Western Athletic Conference. The Wolf Pack joined the Mountain West Conference in 2011, and since then they have been unable to win more than seven games in a season. Now it will be Jay Norvell's turn as Nevada's head football coach to turn things around, but it will be easier said than done.
One of the biggest issues that Norvell must be able to fix for Nevada is their inconsistency on offense. Last year the Wolf Pack were limited to scoring 20 points or less in a game five times as they need to have a semblance of order.
There will be one building block for Norvell in sophomore middle linebacker Gabe Sewell who could be one of the most underrated players at his position within Mountain West.
A difficult schedule which includes Nevada stepping out of the conference to face the Northwestern Wildcats of the Big Ten Conference and the Washington State Cougars of the Pac-12 Conference, along with road games within the Mountain West versus the Colorado State Rams, Boise State, and San Diego Aztecs means that Norvell will definitely have his work cut out in regards to getting Nevada back on track.
San Jose State Spartans 2-10 (1-7)
The 2016 college football season was over before it started for the San Jose State Spartans. The Spartans failed to keep contests close as six of their eight losses came by 14 points or more which included losing by 39 points to the San Diego State Aztecs. After four years as San Jose State's head football coach, Ron Caragher was relieved of his duties as he was never able to lead the Spartans to a winning season. Now Brent Brennan will have his chance to turn things around for San Jose State as their head football coach. Most recently Brennan was the wide receivers coach for the Oregon State Beavers as this was a post that he held for the last six years. Brennan has never been a head coach at any stop along his football journey, but will he be able to make San Jose State respectable in the Mountain West Conference?
One positive that Brennan will have going for him to begin his tenure at San Jose State is the fact that he'll have four seniors on the offensive line. Left tackle Nate Velichko and center Keoni Taylor lead this experienced group, however the Spartans are lacking play making ability at the skill positions.
Defensively San Jose State is looking to improve off of being 88th in the nation last year in total defense. Derrick Odum was on Oregon State's staff last year with Brennan as he was the school's safeties coach. But it will take Odum some time to turn things around as San Jose State's defensive coordinator being that he simply does not have the players who can make an impact as of yet.
The Spartans have a long way to go before their program will get turned around and they will definitely take their lumps here in 2017.
Fresno State Bulldogs 1-11 (0-8)
In 2016, the Fresno State Bulldogs went through two head football coaches which is never a good sign for a program. After a 1-7 start, Tim DeRuyter was fired and he'd be replaced by Eric Kiesau on an interim bases. Kiesau would not fare much better as the Bulldogs would go 0-4 at the helm. Fresno State's struggles would lead the school to seek out and ultimately hire Jeff Tedford as their next head football coach.
Tedford is most recognized for his run as the head football coach of the California Golden Bears as in 11 years at Berkley he compiled a record of 82-57. At California, Tedford sent his fair share of talent to the National Football League which includes Green Bay Packers quarterback Aaron Rodgers and Tampa Bay Buccaneers wide receiver DeSean Jackson. Now Tedford will be charged with reversing the fortunes of a Fresno State program that is coming off of three consecutive losing seasons.
It is going to take Tedford some time to turn around the fortunes of the Bulldogs as he must get players who will fit his system. On offense Fresno State was 120th in the nation in total offense last season, while they were 84th in passing which gives you an idea as to why they were only able to win one game last season. Things aren't that much better for Fresno State on the defensive side of the football where they were ranked 68th in the nation in total defense and like the offense, they are lacking play makers.
For Fresno State this is a team that must find a way to compete in the Mountain West as they've failed to win a conference game since November 2015. And if Tedford can begin to put the pieces in play in order to make this team believe, it would be a huge step in the right direction.
Mountain West Championship Game: Boise State vs. San Diego State
Conference Champion: Boise State
Sources: Cfbstats.com, Sports-reference.com, Ourlads.com