X-Toronto Blue Jays 88-74 (3)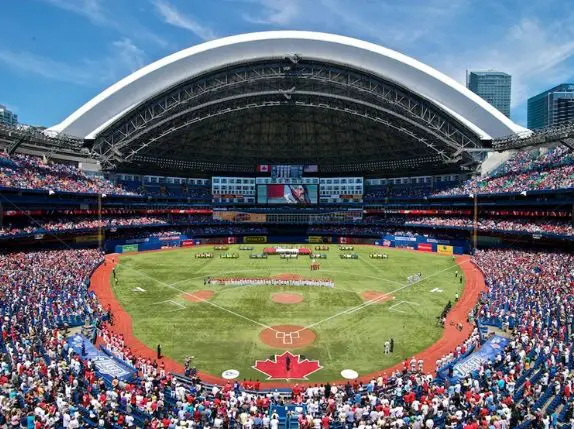 Excitement returned to the Toronto Blue Jays in 2015 as they won the American League East in route to their first trip to the postseason since 1993 and in the process, they captivated the entire nation of Canada. The Blue Jays are eager to get back to it as they fell two wins short of winning the AL Pennant and they are hopeful that it won't take another 22 years to get back to postseason baseball. In a surprise move, Alex Anthopoulos stepped down as the Blue Jays general manager after he was the architect of the team's turnaround. It's not known whether or not that the arrival as Mark Shapiro as the Jays new president of baseball operations last summer led to the departure of Anthopolous in Toronto, but Ross Atkins will be the team's new general manager in 2016.
If you're a fan of offensive baseball, and more importantly the long ball, then you might want to pull up a chair when the Blue Jays are at bat. The Blue Jays led the American League in most major offensive categories last year and you can expect more of the same in 2016. Led the reigning AL MVP in third baseman Josh Donaldson, the Blue Jays have four players returning to their lineup that hit at least 20 home runs. It is truly pick your poison with the Jays lineup as they are the modern "Murderers Row" with Donaldson, designated hitter Edwin Encarnacion, outfielder Jose Bautista, shortstop Troy Tulowitzki, and catcher Russell Martin. And with all of that power in the Jays lineup, it will be imperative for players such as outfielder Kevin Pillar to get on base ahead of the big bats in the Blue Jays batting order.
Last season the Blue Jays team earned run average was fifth in the American League at 3.80, but they also lost two starting pitchers from last year's squad. Last July, the Jays acquired starting pitcher David Price from the Detroit Tigers and he was a horse from Toronto down the stretch of the regular season. Price went 9-1 with a 2.30 earned run average in 11 starts for the Jays. But Price decided to join the Boston Red Sox in free agency. Starting pitcher Mark Buehrle led the Jays in wins last season with 15, but after 16 Major League Baseball seasons, he elected to retire. For Blue Jays manager John Gibbons, he is hopeful that his younger starting pitchers in Drew Hutchinson, Marco Estrada, and Marcus Stroman will be able to take over the reigns as far as being at the top of rotation. 2015 saw relief pitcher Roberto Osuna save 20 games for the Blue Jays, and if he is able to flirt with closing at least 30 games for Toronto this year, it should signal good things north of the border.
The majority of the Blue Jays schedule in April will be against the American League East, and a strong start could put them in the catbird's seat real early.
Y-Boston Red Sox 88-75 (5)*
With the exception of winning the World Series Championship in 2013, the past four years have been a struggle for the Boston Red Sox. In three out of the last four years, the Red Sox have finished in the basement of the American League East. The Red Sox have struggled over the past few years as they've appeared to be a team without a plan due to the fact that they want to first go for the youth movement until they decide to go crazy as far as spending in free agency. Things began to change for the Red Sox last year when former Detroit Tigers general manager Dave Dombrowski became the team's new president of baseball operations. Dombrowski's arrival signaled the end of Ben Cherington as the Red Sox general manager as he was replaced by Mike Hazen. But make no mistake about it that Dombrowski is the man that will be calling the shots.
On the field the Red Sox are happy to have manager John Farrell back. Last year Farrell was diagnosed with lymphoma and he underwent treatment as he missed the last two months of the Major League Baseball season.
Farrell, Dombrowski, and the Red Sox have set out to repair the Red Sox pitching staff that's team earned run average of 4.31 was 14th in the American League last year. The Red Sox also allowed opposing hitters to have a .264 batting average along with a .327 on-base percentage which were each the third highest in the AL.
Since 2008, starting pitcher David Price has been a thorn in the side of the Red Sox. That year Price made his Major League Baseball debut as a member of the Tampa Bay Rays and he helped to prevent the Red Sox from repeating as World Series Champions with Tampa's big victory over Boston in the American League Championship Series. Along with the Rays, Price has pitched for the Detroit Tigers, and Toronto Blue Jays as the 6'6″ left-hander can keep hitters off balance. Price won the American League Cy Young Award in 2012 along with being a five-time AL All-Star. And once Price became an unrestricted free agent over the winter, the Red Sox were fed up with him terrorizing them as they signed him to a seven-year, $217 million contract. But we'll have to wait and see if the Red Sox gave up too much to get Price.
Aside from Price, the Red Sox acquired relief pitcher Craig Kimbrel from the San Diego Padres. In the last five years, Kimbrel has saved 252 games and he's looking to avoid a second consecutive slow start to the season as he introduces his fiery fastball to the American League.
There has been some reshuffling to the Red Sox lineup as the Hanley Ramirez experiment in left field is done. Ramirez will be playing first base for Boston, but you never know if he is a player that will be focused for the full 162-game regular season. The Red Sox are hopeful that third baseman Pablo Sandoval will be more comfortable during his second year in Boston, but the conditioning that plagued his time with the San Francisco Giants could be a factor once again; although he did arrive at spring training in better shape this year. The Red Sox do have stalwarts in their lineup with shortstop Xander Bogaerts and second baseman Dustin Pedroia. But make no mistake about that the heart and soul of this Red Sox team is designated hitter David Ortiz.
Ortiz has announced that 2016 will be his last Major League Baseball season and the team hopes to rally around him as he has meant so much to the organization for more than a decade.
The Red Sox will possess one of the fastest outfields in Major League Baseball with Jackie Bradley Jr., Mookie Betts, and Rusney Castillo. And if each player is able to have a solid year, it could point Boston to the postseason.
The Red Sox will still need to pick up another starting pitcher in order to become a legitimate playoff contender, and I don't see Dombrowski resting on his laurels in order to get Boston back to the postseason.
New York Yankees 86-76
New York Yankees manager Joe Girardi knows how to get the most out his players as he is a master motivator. Last season the Yankees went 87-75 and made the playoffs with a team that was kept together by spit and glue. The Yankees are a team that is currently influx as they are in the process of trying to shed some of the bloated contracts that they have attached to veteran players while also developing young talent within their system. The Yankees will once again exceed the luxury tax threshold in 2016 as their team payroll will easily be over $200 million, but that hasn't stopped team general manager Brian Cashman from going to work this off-season to get New York back to the postseason in 2016.
The Yankees team earned run average of 4.08 was eighth in the American League and their 72 quality starts were 13th as New York's starting rotation lacks pitchers that can consistently pitch deep into games. Starting pitcher CC Sabathia is 35-years of age with a bad knee and plenty of mileage on his arm as he is rapidly breaking down. Elbow issues for starting pitcher Masahiro Tanaka continue to put a ton of question marks around his overall effectiveness while Ivan Nova and Michael Pineda have each been inconsistent. Starting pitcher Nathan Eovaldi did lead the Yankees in wins last season with 14, but his 4.20 earned run average was aided by a New York lineup that swung the bats tremendously when he took the mound. The Yankees are thin in starting pitching which led Cashman to getting creative over the winter.
The Yankees already possessed two of the best relief pitchers in Major League Baseball last year in Dellin Betances and Andrew Miller. Cashman added to that when he acquired relief pitcher Aroldis Chapman from the Cincinnati Reds. Chapman comes to New York as a four-time National League All-Star who has saved 145 games over the last four years for the Reds. And what Chapman gives the Yankees is more depth in their bullpen. Chapman, Betances, and Miller were three of the toughest bullpen pitchers for hitters to make contact on last season and the Yankees are letting it be known that if you want to score runs on them, you had better do it early.
But all is not well with the Yankees bullpen due to the fact that Girardi tends to use his relievers a ton due to the inability of his starters to go deep into games. Last season Betances made 74 appearances while Miller made 60, and coming down the stretch of the regular season, neither one of these pitches had anything left which could once again be a problem in 2016.
Offensively, the Yankees have the potential to be feast or famine in 2016. After being suspended for the entire 2014 Major League Baseball season due to his use of performance-enhancing drugs, designated hitter Alex Rodriguez came back as a force last year to prove to people that he's still got it. Rodriguez managed to lead the Yankees in home runs with 33 while he put New York on his back for lengthy periods the season. But at the age of 40, can the Yankees really expect another season like that from A-Rod?
Like Rodriguez, veteran first baseman Mark Teixeira is an aging player. Teixeira will be 36-years of age next month, and the injury bug is beginning to catch up to him as he only appeared in 111 games last season. The Yankees were counting on Greg Bird to get more playing time at first base in 2016, but a torn labrum will put him on the shelf for the entire campaign. Veteran outfielder/designated hitter Carlos Beltran did lead the Yankees in batting average last season, but it was only with a .275 batting average. Beltran will be 39-years of age next month, and like Teixeira, his skills are diminishing. The contract of outfielder Jacoby Ellsbury appears to be another one that the Yankees are going to be stuck with while you have to wonder if the front office in the Bronx has given up on outfielder Brett Gardner.
The Yanks will face a tough schedule right out of the chute with series' against the Houston Astros, Detroit Tigers, and Toronto Blue Jays. And a slow start by the Yankees could bring out the naysayers in New York, but Girardi won't allow his team to succumb to the white noise as they will play tough all season long.
Baltimore Orioles 86-76
After winning the American League East in 2014, there were some people that expected the Baltimore Orioles to once again contend for the division title last year. I wasn't one of those people as the Orioles had simply lost too much in free agency in order to contend. And my theory about the O's proved correct as they finished with a record of 81-81. Orioles owner Peter Angelos has been notorious as far as keeping it close to the chest in regards to spending which makes things a little tougher for Baltimore to consistently field a contender. But if there is a guy that can make lemonade out of lemons, it is O's manager Buck Showalter.
Since Showalter joined the Orioles, the team has only had one losing season under him. Showalter has a no-nonsense approach while he puts a ton of attention on baseball fundamentals which means that he attempts to make the O's sound in each phase of the game along with not beating themselves.
The Orioles recent success has been centered around outfielder Adam Jones. Jones has spent the majority of his Major League Baseball career with the Orioles where he has become the face of the franchise in Baltimore. Jones has made five All-Star Game appearances and you should once again be able to pencil him in to hit at least 25 home runs while driving in 85 runs. And another solid campaign by Jones in 2016 should see him move into the top 20 of the Orioles all-time WAR list.
Third baseman Manny Machado was the third overall pick of the 2010 Major League Baseball Draft by the Orioles and after a knee injury threatened to hamper is baseball career, he has become one of the best third basemen in the game as he could be in the running to be American League MVP this year.
First baseman/designated hitter Chris Davis led the American League in home runs last year with 47. It was Davis' walk year and he was expected to receive a huge payday this winter; just not in Baltimore. However Angelos and the Orioles shocked many people when they came to an agreement with Davis on a seven-year deal that is worth $161 million. Davis is that classic power hitter as he strikes out a ton along with going deep, but the Orioles feel that he is worth the risk.
For the first time in a few years, catcher Matt Wieters is healthy for the Orioles, and they should get a stellar season out of him as he is set to hit free agency next winter while infielder Jonathan Scoop is on the verge of being a breakout player.
The Orioles pitching staff isn't littered with Cy Young talent, but they all possess a strong with ethic. And if this O's starting pitching staff that includes Ubaldo Jimenez and Chris Tillman can get the ball to relief pitcher Zach Britton in the ninth inning, Baltimore will have a shot to be a playoff team in 2016.
The Orioles should hang around in the playoff race until the very end and it will be interesting to see if general manager Dan Duquette will be willing to trade some prospects to make his team a surefire contender.
Tampa Bay Rays 78-84
The magic appears to have finally run out for the Tampa Bay Rays. After six consecutive winning seasons from 2008-2013, the Rays have finished each of the last two Major League Baseball seasons with losing records. Rays president of baseball operations/general manager Matthew Silverman and manager Kevin Cash are set to begin their second year working together and they'll once again have their hands full as they attempt to compete in the American League East.
The Rays will once again have one of the lowest payrolls in Major League Baseball as they play in a small media market along with the fact that they struggle with home attendance at Tropicana Field.
In recent years pitching has been the backbone of the Rays organization as they had the fourth lowest earned run average in the American League last season and they'll once again need to be one of the better staffs in baseball in order to give Tampa a chance.
If the Rays will be able to give starting pitcher Chris Archer consistent run support, he could be in the conversation as far as winning the American League Cy Young Award. Archer will also look to break his single-season strikeout record that he set just last year when he struck out 252 batters. Arm issues have derailed what once appeared to be a promising Major League Baseball career for starting pitcher Matt Moore, but the Rays are hopeful that this is the year in which he is able to put it all together.
Aside from Archer and Moore, the Rays have solid starting pitchers in Alex Colome, Alex Cobb, Erasmo Ramirez, and Jake Odorizzi that could put a damper into the chances of the contenders in the American League East. The Rays pitching staff must also get accustomed to a new catcher behind the plate in Hank Conger who was acquired from the Houston Astros in December.
Relief pitcher Brad Boxberger saved 41 games for the Rays last season, and if Tampa falls out of the race in the AL East early on, I can see Silverman looking to trade him.
Offense was a struggle for the Rays in the 2015 as they were 14th in the American League in runs scored and it should once again be the case this year. The only way that the Rays will be able to stay afloat in the American League East is if third baseman Evan Longoria has an MVP-caliber campaign while they are also hopeful that outfielder Desmond Jennings will be able to remain healthy.
Under Cash, the Rays will be an up and down team in 2016, but they will compete on a nightly basis.
Source: Baseball-reference.com
X-Division Winner
Y-Wild Card Winner
*Play-in Game