It's not supposed to be this easy, but don't tell that to Alabama Crimson Tide head football coach Nick Saban. Saban just finished his ninth year at Alabama and he just led the Crimson Tide to their fourth national championship on his watch. Saban has compiled a record of 100-18 at Alabama with one-third of those losses coming in his first year on the job. The Tide have managed to finish each of the last eight college football seasons ranked in the top 10 of the Associated Press Poll while becoming a pipeline for the National Football League.
But it isn't supposed to be like this in college football where one team simply has the ability to dominate this era. College football is currently defined by parity that stems from constant turnover at the head coaching position, along with conference television deals that preach equality for each member, schools having to worry about players leaving early for the National Football League, transfers, and NCAA sanctions. But through it all, Alabama and Saban have found a way to rise above all of that by cornering the market while reminding us of a different era in college football where one team dominated as they are simply the team that everyone loves to hate.
Saban has done the impossible in the toughest conference in college football which is the Southeastern Conference. Since 2003, the SEC has produced nine national champions with Saban accounting for five of those as he was the head football coach of the LSU Tigers when they won it all in 2003.
When Saban came to Tuscaloosa in 2007, the folks there were looking for a head football coach that would not only win, but restore respectability. In the previous decade, Alabama had three different head football coaches and just one conference championship to show for it which has changed now with Saban.
Alabama has become so dominant that each school in the Southeastern Conference with the exception of LSU has made at least one head coaching change since Saban took over. There was a time when the annual game between the Tide and Tennessee Volunteers which is considered as "The Third Saturday in October" was a big deal. But under Saban, the Crimson Tide have never lost to the Volunteers. When Saban was at LSU, he was 4-2 against Alabama. But since Saban's been at Tuscaloosa, the Tide are 7-3 against the Tigers which includes winning the last five straight in the series. The dominance by Alabama almost led to Les Miles being fired by LSU as their head football coach this past November. Under Saban, Alabama is 6-3 in the Iron Bowl against the Auburn Tigers in the Iron Bowl as this game can divide families within the state.  And Alabama's dominance within the Southeastern Conference isn't strictly just in the SEC West as the Tide are 4-1 in the SEC Title Game under him which includes wins over the Florida Gators and Georgia Bulldogs.
Saban has turned Alabama back to what they were under legendary head football coach Paul "Bear" Bryant as they are now every opponents game of the year. And after losing consecutive Sugar Bowls to the Oklahoma Sooners and Ohio State Buckeyes respectively, it was time for Alabama to get back to basics in 2015.
When Alabama lost to the Ole Miss Rebels on September 19, it marked the first time since 2006 that they lost their conference opener which actually turned out to be a blessing in disguise as from that point on the Crimson Tide began to come together as a collective unit. Senior quarterback Jake Coker was benched against Ole Miss by Saban while the Tide's defense was picked apart which cast some doubt over Alabama's chances in 2015.
But Alabama's following game was against the Louisiana-Monroe Warhawks and the Tide used the game to get their swagger back as they easily won 34-0. The following week Alabama traveled to Athens, Georgia to take on the Bulldogs who were ranked eighth in the country. And now that Alabama had their swagger back, it showed against Georgia as they easily knocked them off 38-10. In consecutive weeks in November, Alabama got wins over LSU and the Mississippi State Bulldogs as they combined to limit them to just 22 points. And by the time that the Iron Bowl came around, Alabama was clicking on all cylinders as they won 29-13.
The Crimson Tide would then face the Gators in the Southeastern Conference Championship Game and they were a team that was tailor made for Alabama being that they had one of the worst offenses in the nation. Alabama would defeat Florida 29-15 with all roads painted in crimson that were heading to the College Football Playoff.
And with last year's memory of the Sugar Bowl loss to Ohio State in the heads of Alabama, the Michigan State Spartans never stood a chance against them in the Cotton Bowl as they lost 38-0. The destruction of Michigan State would then set up a contest between Alabama and the Clemson Tigers to declare whom the national champion would be.
All season long, Alabama and Clemson were clearly the two best teams in college football which was evident by their fierce battle as unlike previous title games for Saban, his team had to pack a lunch.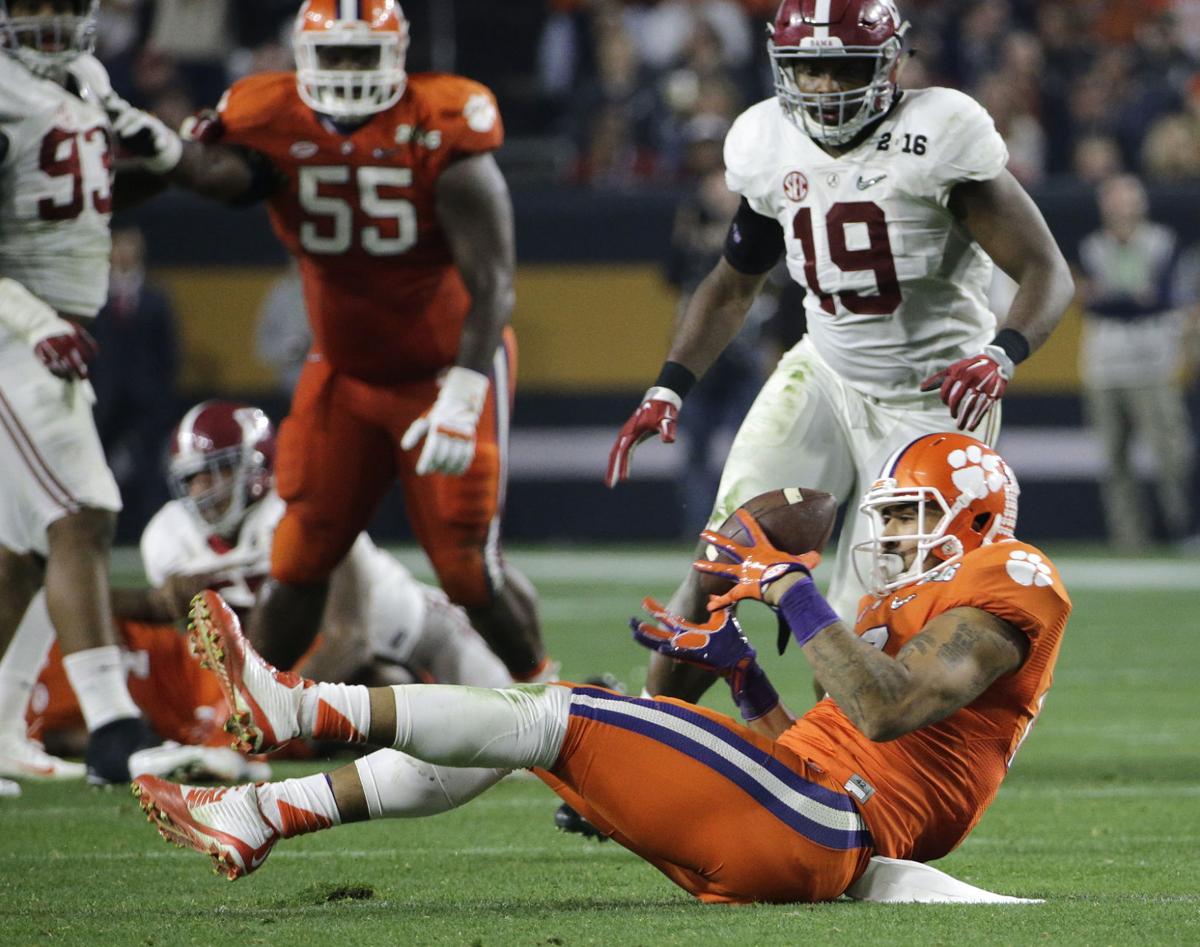 Clemson counter-punched with Alabama all game long as they weren't afraid of swapping paint with junior running back Derrick Henry who is the reigning Heisman Trophy winner, or the Tide's defense that was ranked second in the nation.
Defensively Alabama found themselves reeling in the second quarter when they were unable to stop Clemson's offense. The Tigers were leading 14-7 when Alabama junior defensive back Eddie Jackson picked off Clemson quarterback Deshaun Watson which led to Henry's second rushing touchdown of the game. But as the game went on, Alabama could not shake Clemson who wanted to show the nation that they were a team of destiny. However Saban didn't accomplish what he has throughout his career by sitting on his hands, and after a field goal by Alabama junior kicker Adam Griffith tied the game at 24 early in the fourth quarter, the Crimson Tide converted a successful onside kick. And two plays later, Coker found junior tight end O.J. Howard on a 50-yard touchdown pass to give Alabama the lead at 31-24. Clemson wasn't ready to waive the white flag as a field goal by freshman kicker Greg Huegel cut the Crimson Tide's to only four points. However on the ensuing kickoff, Alabama senior running back Kenyon Drake would take it to the house with a 95-yard touchdown. Alabama would hold on to defeat Clemson 45-40, as they showed their mental toughness throughout which is a credit to the coaching ability and the teaching of Saban.
With five national titles to his credit, Saban never has to win another game because he has already established himself as a legend. And at this point if Saban wanted to become the governor of Alabama, he would win by a landslide as even the folks in Auburn have to respect him. But at 64-years of age, Saban isn't showing any signs of slowing down as there is good shot that Alabama could be in the same position next year. Saban has another fine recruiting class coming into Tuscaloosa as when you're on this kind of tide that he is, you just simply ride the wave. The boosters at Alabama knew what they were doing when they persuaded Saban to leave the Dolphins in 2006, but nobody in their wildest dreams could have ever expected what he has accomplished with Crimson Tide football.