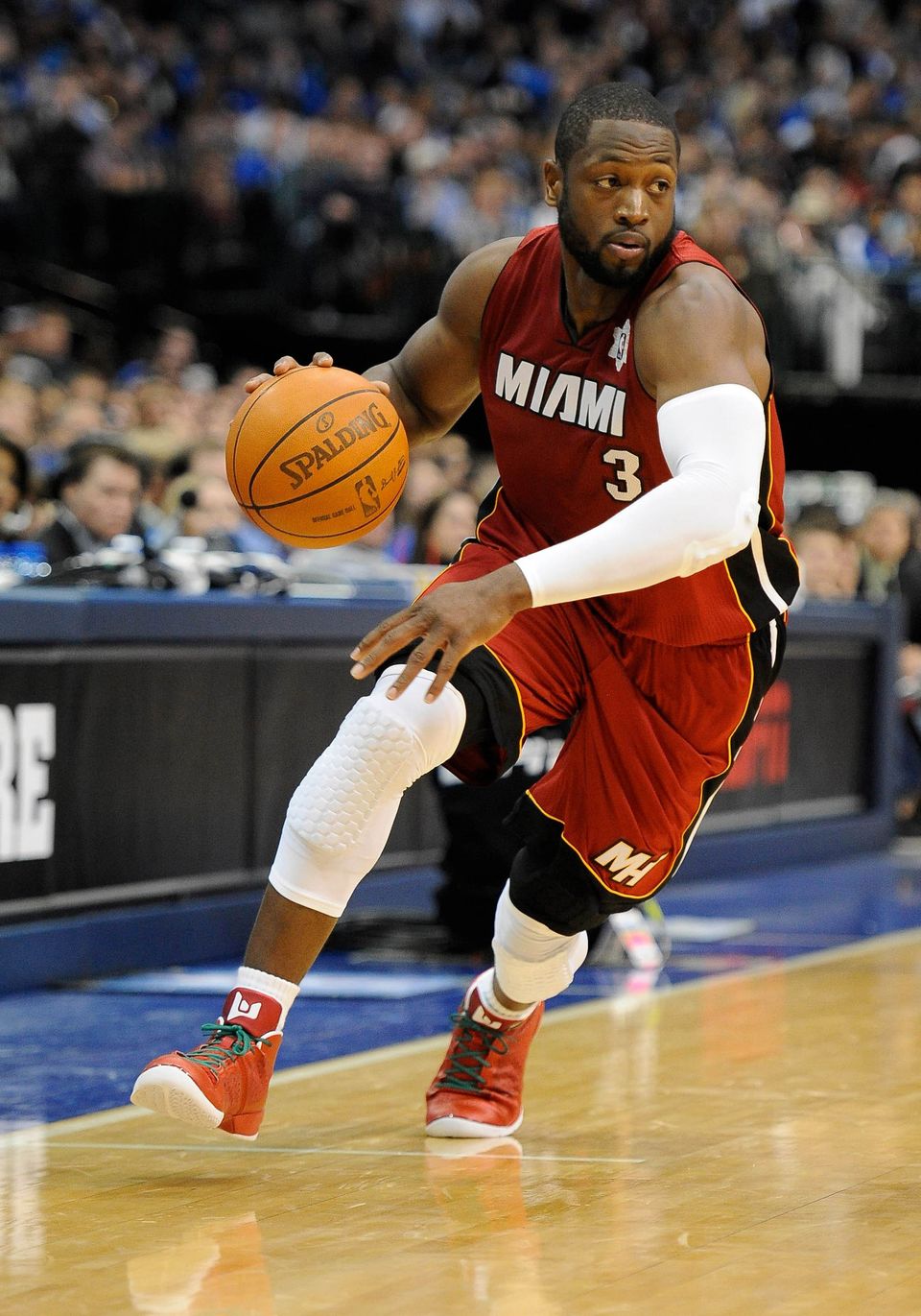 The Miami Heat have been in business since 1988 as an NBA franchise and the case can be made that shooting guard Dwyane Wade is the most important player in franchise history. The Heat drafted Wade with the fifth overall pick of the NBA Draft and the rest has been history. Wade helped the Heat win their first NBA Championship in 2006 as he introduced the world to "Flash". Wade was named the NBA Finals MVP as he averaged 34.7 points per game in the series win over the Dallas Mavericks. In the summer of 2010, the Heat signed small forward LeBron James and power forward Chris Bosh to join Wade in Miami and form their version of "The Big Three". And in the process, Wade took a backseat to James as the trio led Miami to the NBA Championship in 2012 and 2013. But when James left the Heat last summer to re-join the Cleveland Cavaliers, Wade once again became more of a focal point of the offense in Miami this season. Wade averaged 21.5 points per game this season, but at the age of 33, the explosion that was once there in his body isn't there in the same capacity which has left him and the Heat at an impasse.
Last summer, James, Bosh, and Wade opted out of their respective seven-year contracts that were signed with the Heat in 2010. And when James left Miami, it forced Heat president Pat Riley to scramble as he re-signed Bosh to a five-year, $118 million contract. Wade also re-signed with the Heat, but only for a two-year deal that was worth $31.1 million. Wade's contract also included a player option of $16.1 for next season. The NBA has a new television deal coming down the pike and because of that, the league's salary cap is expected to skyrocket soon. Wade like many other stars is seeking more money. But it won't be as easy for Wade to attain what he is seeking.
In 2010, Wade, Bosh, and James each agreed to take less money in order to win titles and that philosophy was indeed successful. But now that is simply a thing of the past.
Wade is the Heat's all-time leader in most major statistical categories. But Wade will be 34-years old this January and he has to be realistic about his current worth as a basketball player.
The Heat are reportedly offering Wade less than $10 million per season as Riley has his sights set on putting together another mega-team in Miami. Riley also knows that Wade is not the player that he once was. Wade has never appeared in all 82 regular season games as a professional and he hasn't played in at least 70 regular season games for the Heat since the 2010-2011 NBA season.
We live in a time where players want to be compensated for past accolades, but in the end the NBA is simply a business and thus players tend to get compensated for what they can potentially do as opposed to what they did. The extension that was given to Los Angeles Lakers shooting guard Kobe Bryant two years ago was the prime example of this. Two years ago, the Lakers signed Bryant to a two-year extension worth $48.5 million. The last two seasons have only seen Bryant appear in 41 games as the Lakers are paying him $24 million a season to be a spectator. Bryant is a five-time NBA Champion and one of the best players to ever lace them up, but at the time of his extension, he was 34-years old and injuries have caught up to him.
Make no mistake about it that Wade is Mr. Miami, but Riley and the Heat are not going to allow themselves to be handcuffed to one player regardless of what he has previously done; especially if he can no longer do it at the same level. If Wade decides to hit the open market as a free agent, he more than likely will not get the money that he seeks either as most executives around the NBA will look at him in the same fashion as Riley currently is. And if Wade ends up getting the huge payday that he is seeking, it more than likely won't come from a team that will be competing for the NBA Title. Wade's feelings might be hurt, but like most professional athletes he must realize that when his playing career is over, the arena or stadium that he played at will still be there and eventually he will be replaced on the playing field. It isn't harsh, but it is realistic. What Wade gave up in salary in the past got him two more NBA Championships so it appears that previously taking less money was worth it.
Wade might not see it today, but the Heat will take care of him. When Wade decides to call it a career, his jersey number will be retired by the Heat. The Heat will also more than likely compensate him handsomely for making public appearances as he is an icon in South Florida. But at the present he is no longer the explosive player that he was a few years ago and it is something that he must realize.
Source: Basketball-reference.com