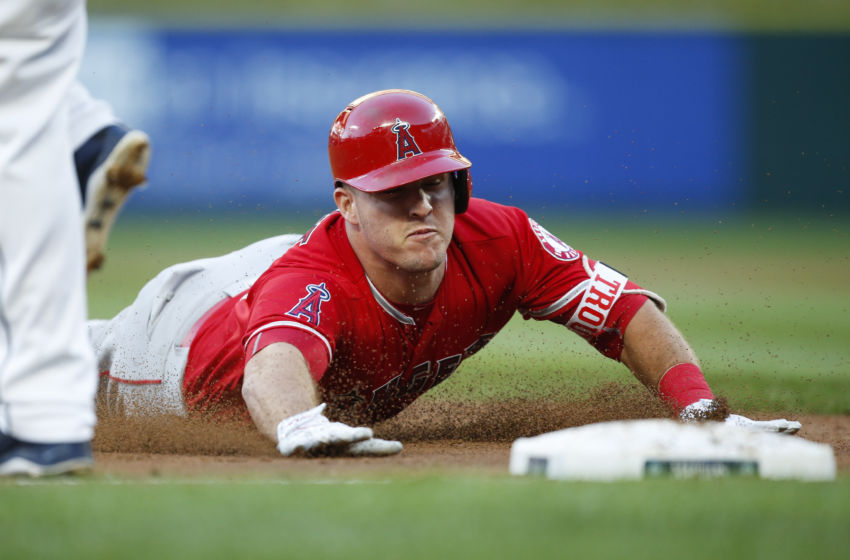 It's getting very hard to find new adjectives to describe what Los Angeles Angels outfielder Mike Trout is doing on the baseball diamond. Trout is only 25-years of age, but he is already a two-time American League MVP, while he won the A.L. Rookie of the Year in 2012. Trout has a career batting average of .308, while he is on pace to hit at least 25 home runs for the sixth consecutive year. Trout continues to amaze in the field as well as his wizardry in the outfield has not been consistently seen like this since the days of Ken Griffey Jr. And although that Trout is only 25, his numbers already are putting him in line to one day be enshrined into Cooperstown and the Baseball Hall of Fame.
Trout is off to another solid start here in 2017 as he is batting .348 which is third in the American League, while he also has 13 home runs and 30 runs batted in. Trout continues to be in that rare air of player as he has gone yard in five of the Angels last six games, and when you show up to park to see him perform (whether it is batting practice or the game) you're typically in for a treat.
Trout calls Orange County home, but right now he finds himself on the big stage as his Angels are visiting the New York Mets. Trout is originally from Melville, New Jersey which is less than three hours away from Flushing. Trout grew up as a fan of the Philadelphia Phillies who happen to be one of the Mets biggest rivals, and he has the ability to turn Citi Field into his own playground.
Trout possesses all of the tools in his arsenal to succeed as there is nothing that he cannot do on the baseball diamond. And after Trout's last two seasons flew under the radar due to the fact that the Angels simply didn't have a good team around him, his 2017 campaign could be magnified since the Halos currently possess a winning record.
The past few years have seen Trout consistently compared to Washington Nationals outfielder Bryce Harper in regards to who is the best player in Major League Baseball, but for my money Trout has the edge. As good as Harper is and can be, he has not been consistent from year-to-year like Trout has. Trout was able to burst onto the scene in 2012 and he has never looked back as comparisons to himself and Hall of Famer Mickey Mantle are pretty accurate being that he is the face of Major League Baseball.
Another American League MVP Award for Trout would make him the first, three-time winner since Alex Rodriguez. But unlike Rodriguez, Trout's reputation is squeaky clean as he does not have a steroid cloud hovering over him which makes him a marketing goldmine; especially in Southern California.
There is absolutely nothing that Trout can't do on the baseball diamond which is further magnified by the fact that he typically leads Major League Baseball in WAR (wins above replacement) each year. It's also scary good that Trout is only 25-years of age as I do believe that he has yet to reach his ceiling.