The year 1936 was a long time ago. The United States was five years away from getting involved in World War II and Lou Gehrig was the pride of the New York Yankees. That was also the last year that a native of Great Britain won Wimbledon as Fred Perry defeated Gottfried von Gramm of Germany. The British were spoiled at first as from the tournament's beginning in 1877 until 1906, only that native son's were the ones who Wimbledon. Since then the people of England have had to sit back and watch Wimbledon dominated over the years from players such as Rod Laver of Austrailia, Bjorn Berg of Sweden, John McEnroe and Pete Sampras of America, and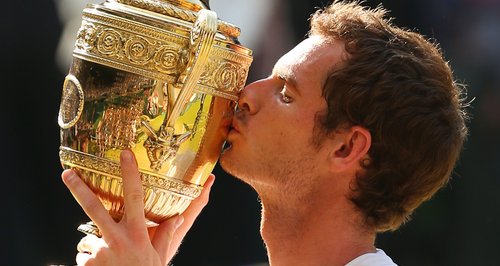 Roger Federer of Switzerland. That finally changed yesterday as Andy Murray defeated Novak Djokovic of Serbia in straight sets 6-4, 7-5, 6-4 at the All England Club.
Murray came into the tournament as the second seed while Djokovic was the top seed, but it was Murray that dictated the pace yesterday and the usual laid back crowd at the All England Club was loud enough that the match appeared to be going on at Wembley Stadium.
Murray knows how to please the home crowd as he previously did it in the 2012 Summer Olympics at the All England Club by defeating Federer in straight sets to capture a gold medal.
This is the second time in less than a year that Murray and Djokovic met in the final of a Grand Slam event. Murray and Djokovic met in the finals of the 2012 U.S. Open. Murray won the first two sets before Djokovic rallied to send the match to a fifth set before Murray won the championship. In an era that has been dominated by Federer and Rafael Nadal, it is promising to know that we have a new rivalry between Murray and Djokovic on the horizon. Djokovic leads 11-7 in head-to-head matchups with Murray as the two had an epic match that lasted nearly 5 hours at the 2012 Austrailian Open that was won by Djokovic. Djokovic had his day in the sun at Melbourne that day, but with the eyes of a nation watching, Murray shined brightest on England biggest stage.