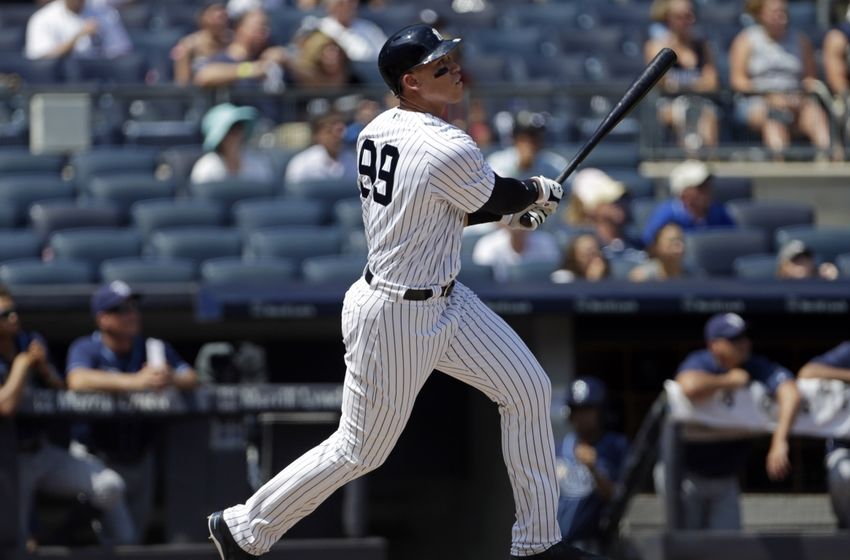 At 6'7″, 282 lbs., New York Yankees outfielder Aaron Judge is a very imposing figure. And with the starting of training camps in the National Football League more than a month away from beginning, Judge has the physical stature to be a defensive end for the New York Giants. However Judge's first love is baseball in spite of the fact that he was able to excel at the high school level in football and basketball. But it was Judge's baseball talents that took him to Fresno State University. There Judge would catch the eye of Major League Baseball scouts as his mammoth home runs were difficult to ignore. In 2013, the Yankees would select Judge 32nd overall in the MLB Draft as he was expected to be a building block for the the future.
Judge would develop in the Yankees minor-league system, but he began to earn a reputation of having power at the plate and not being able to hit for average.
Judge would get his chance to show what he could do at the Major League level when he made his debut with the Yanks last August. In Judge's first career at-bat, he hit a home run off of Tampa Bay Rays starting pitcher Matt Andriese. In 27 games with the Yankees in 2016, Judge would hit .179 with 4 home runs and 10 runs batted in. However the fact that he hit a home run in his first at-bat would be a harbinger of things to come here in 2017.
In just 60 games in 2017, Judge has gone from being a guy who only had power to a player that is the front runner to be the American League's MVP.
Judge's 22 home runs lead the American League, and the same can be said about his .341 batting average, while his 49 runs batted in as he also finds himself in contention to win the Triple Crown. But it is not that Judge is simply hitting home runs as they are seismic. This past Sunday, Judge launched a home run against the Baltimore Orioles that was measured at 496 feet as it cleared the bleachers at Yankee Stadium, while it was marked as the longest home run hit since Major League Baseball began to measure homers in 2009. Like catcher Gary Sanchez who made his debut with the Yankees last year and created a buzz for himself due to his power, Judge is doing the same for himself as he has become a household name rather quickly. And Judge is also making Yankees general manager Brian Cashman look like a genius as he stuck to his guns as far as not trading the team's young prospects in favor of established veterans.
Since 1995, the Yankees have 18 playoff appearances which has produced five World Series Championships. However in the last four seasons the Yankees only have one trip to the postseason. This has put Cashman under fire as he has not been spending money like we've seen him do in the past with the Yankees focusing on developing young talent such as Judge. And it is paying off in a big way.
The emergence of Judge has now given the Yankees an opportunity to create a new core of players who could potentially win another World Series Championship, and there might not have been a better team for him to have been drafted into Major League Baseball by.
The Yankees have a long history of having some of the game's best sluggers suit up for them. The names are iconic in baseball such as Babe Ruth, Lou Gehrig, Mickey Mantle, Joe DiMaggio, and Reggie Jackson just to name a few as they were known to hit powerful homers, and in the words of former Yankees owner George Steinbrenner, "they put meat in the seats".
This is exactly what Judge is doing as he now has his own section in the right field bleachers at Yankee Stadium which are known as "The Judge's Chambers". Fans in the section will dress up in judicial robes with white wigs to show their support of the youngster, while his batting practice sessions are an event of its very own. And now with the emergence of Judge, the Yankees marketing machine can go to work in promoting their phenom.
As the Yankees are currently sitting atop the American League East with Judge having a big hand, or in this case a huge bat in the the equation, it has resparked their fan base. And with the retirement of shortstop Derek Jeter in 2014, New York City needs a clean-cut baseball player that is wearing the Yankee pinstripes as Madison Avenue and the Bronx Bombers go hand in hand. But aside from the marketing aspect, Judge's emergence can help New York in other ways as well.
All-Star caliber players such as Washington Nationals outfielder Bryce Harper and Baltimore Orioles third baseman Manny Machado are set become free agents in 2019 and the Yanks have long been rumored to have them on their radar. And as the backdrop of playing in the Big Apple for the Yankees is extremely enticing, being in a lineup with a player such as Judge could be the icing on the cake.
Judge has really turned heads around baseball during the first two months of the season and at the very least Judge is going to be the American League's Rookie of the Year, while the thumb injury to Los Angeles Angels outfielder Mike Trout has opened the door for to possibly be the A.L. MVP. And the scary thing about Judge is that he is only going to get better.
Source: Baseball-reference.com