After the Houston Astros made the World Series for the first and only time in franchise history in 2005, they faced a steady decline. The Astros bottomed out by having three consecutive 100-loss seasons from 2011-2013. But by 2015, the Astros found themselves back in the postseason. The Astros would win 84 games last year, but it wasn't good enough for them to make the playoffs. However a few tweaks to the Astros over the winter by team general manager Jeff Luhnow have them as the team to beat in the American League West here in 2017.
The biggest move that the Astros made in the off-season was to acquire veteran catcher Brian McCann from the New York Yankees for his ability to call a game behind the plate. And McCann's presence in Houston is paying off.
After posting 20 victories in 2015 en route to winning the American League Cy Young Award, Astros starting pitcher Dallas Keuchel took a step back last year. Keuchel was coming off of leading the A.L. in innings with 232 and was never able to get on track. However with McCann calling games for Keuchel this season, he has resumed his post as one of the better pitchers in Major League Baseball. In eight starts Keuchel is 7-0 with an earned run average of 1.84 which has been highlighted by a complete game performance versus the Cleveland Indians on April 25 where he surrendered a pair of runs. And in each start that Keuchel has made this year, he has given Astros manager A.J. Hinch at least six innings.
Journeyman starting pitcher Charlie Morton is in his first year with Houston and he has been another hurler who has benefited from McCann calling games as well as the as the Astros potent offense. Morton's single-season career-high for victories came in 2011 when he won 10 games with the Pittsburgh Pirates. But here in 2017, Morton is already halfway to matching that total as he is 5-2 with an earned run average of 3.97. And if having to deal with the Astros starting pitchers isn't enough for opponents, they then have to face relief pitcher Ken Giles whose 10 saves so far in 2017 are tied for the second most in the American League.
Offensively the Astros are one of the best units in baseball as they are first in the American League in batting average (.275), hits (377), and runs batted in (198), while they are second in home runs (53), and runs scored (196). Second baseman Jose Altuve has lead the A.L. in hits for each of the last three years and he'll once again be in the running. Altuve is batting .295, and he'll pick it up soon to get his average back above .300 where it has been in each of the last three years. Shortstop Carlos Correa continues to build off of winning the A.L.'s Rookie of the Year Award in 2015 as he is off to a hot start this season by batting .294 with 5 home runs and 23 runs batted in. And just as important that it was for the Astros to acquire McCann, picking up a pair of veterans in outfielder Josh Reddick and designated hitter Carlos Beltran for their lineup has been huge.
Reddick and the Astros agreed to a four-year deal for $52 million in the off-season as he has given Houston a true professional in every sense of the term in their lineup. Reddick is going to show up ready to play each day and that mindset blends in nicely with a team that simply keeps finding a way to win games. And as for Beltran, he was the guy who got away from Houston in 2004, but he has found his way back there.
In 2004, the Astros acquired Beltran from the Kansas City Royals and he went on a tear to help Houston make the playoffs. In 90 games with the Astros in 2004, Beltran hit 23 home runs, but he turned it up to another level in the postseason where he hit 8 homers in just 12 games. This production led Beltran to being a very sought after free agent as he would agree to a seven-year deal for $119 million with the New York Mets. Beltran has contributed to each team that he has played for during his Major League Baseball career, and with a career batting average of .281 to go along with 424 career home runs, he is a borderline Hall of Fame candidate. And even though Beltran's physical skills have diminished now at the age of 40, his two decades of Major League Baseball experience is coming in handy for the Astros.
Reddick and Beltran have joined a solid lineup that includes utility man Evan Gattis, infielder Yuli Gurriel who recently defected from Cuba, and infielder Marwin Gonzalez to give the Astros their best hitting lineup since the days of the "Killer B's" which featured Jeff Bagwell, Craig Biggio, Lance Berkman, and Derek Bell.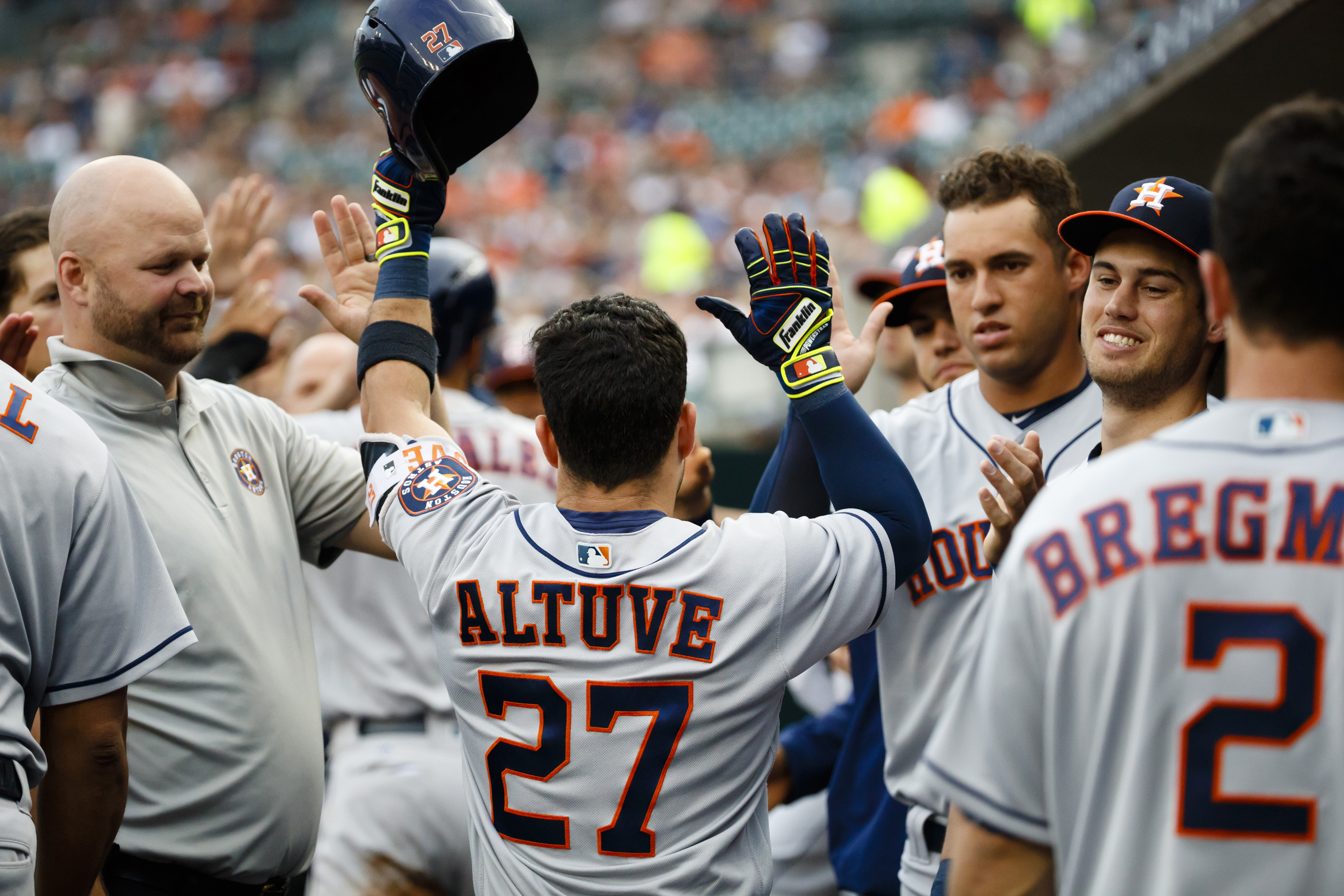 At 29-12, the Astros have the best record in Major League Baseball. The Astros currently have an 8.5-game lead over the Los Angeles Angels and Texas Rangers for second place in the American League West as they are 17-6 within their division. Houston served notice this past weekend when they took three out of four games on the road versus the New York Yankees who had been the hottest team in baseball.
The Astros hot start has put Luhnow and manager A.J. Hinch in a good position as even though it still might be too early for them to think about it, but they could be buyers in order to enhance their team.
In 2015, the Astros pushed the eventual World Series Champion Royals to the limit before bowing out in five games in the American League Divisional Series. This time around the Astros can build off of that as youngsters such as Correa, Keuchel, and outfielder George Springer have more experience.
The 2017 Major League Baseball season is far from over, but things are shaping up to be very good for the Astros.